Thanks for turning the page Suej!
And welcome everyone!
@ UKBadger - thanks for the compliments. Obviously not every image shared on this TR will make it into my 'portfolio' at the end of the day, but I enjoy sharing the dynamics of the sightings as they developed instead of just the 'best shots' in these TRs!
Shall we continue?
DAY 2:
Twee Rivieren
Part 4
We rested a while, took a swim, and had a miniscule lunch of John West pilchards and crackerbread (we couldn't bring any fresh supplies due to the 3 days camping in the salt pan that preceded this trip
We did buy some meat for braaiing at the camp shops though).
We set off up the Auob river. We'd heard reports of a leopard cub in a tree by the roadside at Montrose. I had never seen a leopard in KTP before and really wanted to now!
This secretary bird was still feeling the heat...
We made it to Montrose but found nothing of the leopard cub. At this point my friend was VERY sick from the pilchards (I was fine, though
), and we needed to turn back as he was becoming paler and sweatier by the minute. We found out the next day the leopard cub was but 1 or 2km further, even saw the spot where the branch comes over the road with a large sociable weaver nest on it!!
Anyway - bygones are bygones. We headed back, and were happy to find our lion pride from this morning passed out under a tree right by the road. The sun was going down fast, and we knew they might become more active soon. I convinced my friend to keep his lunch down for a little while longer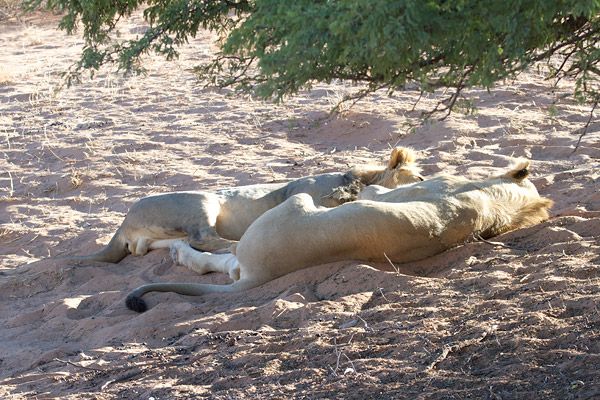 And of course, at these sightings you always have this idiot (I think he was French - not that it matters, but it made communicating the rules to him difficult):
I eventually had to shout at him to get back in the car. The lions were literally about 7-10 meters from him...
This one even checked him out:
Then the big yawning started...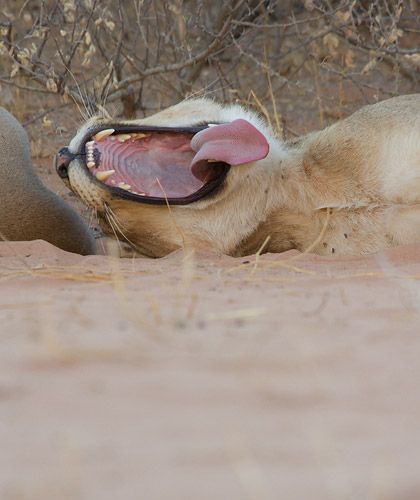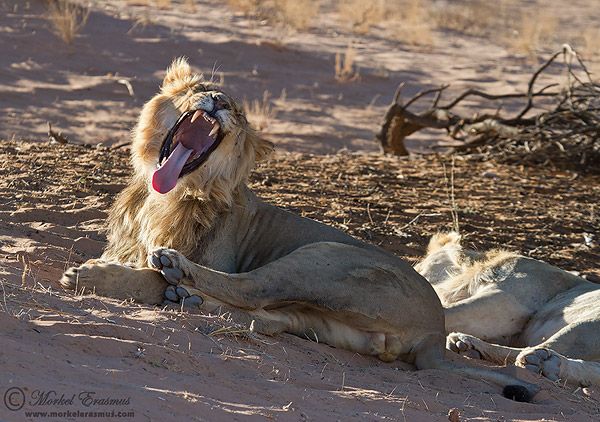 ...and some scratching...
This young male got up and plonked down even closer to us.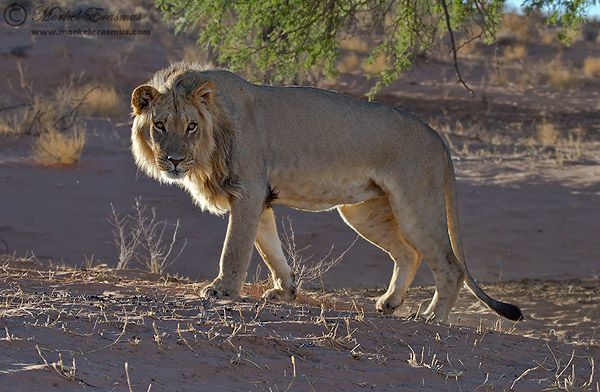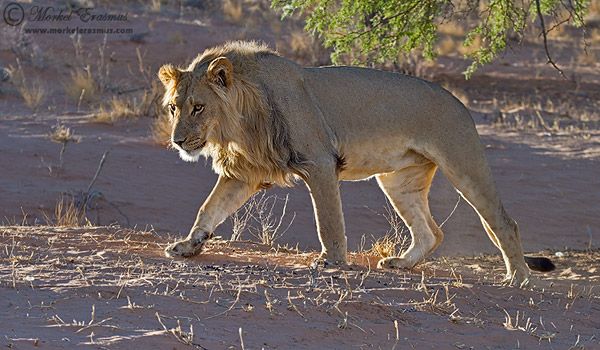 His brother then got up and attempted to get rid of some fleas. Looking at him you'd think he'd be more concerned about the tick infestation on his body!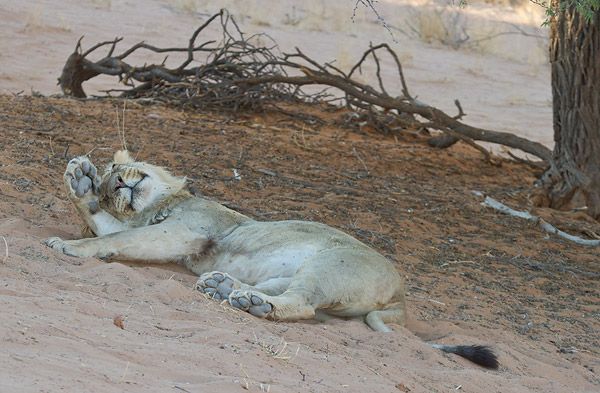 He then got up and joined his brother. They were definitely starting to wake up for the night's hunt...
(more lion images to come!)