Thoughts on the matter?
Well to compound thoughts logically you have to look at life history traits of plants. In disturbance areas you get resprouters and re-seeders.
They show a trade off between allocation of resources at what age they should reproduce, how often, how many seeds, and how long should the parent live.
Long lived sprouters
have good regeneration after a disturbance, but poor reproduction
non-sprouters
have bad regeneration but produce many seeds
The two types differ in carbon allocation and storage as sprouters store carbon as starch reserves for regrowth. Mopane and acacia species adopt resprouting from an underground starch reserve in the roots called a lignotuber.
This life history trait offers a high survival rate when in a high disturbance environment, but a low recruitment rate of offspring (trade-off).
I have the pleasure of working with the world leading botanist in this particular field and shall try to convey the mechanisms at work (not nearly as good as he does but im all u got
)
In a savanna ecosystem fire naturally would occur every 2-3 years. (fynbos about 10-15). Within the ecosystem there are two main types of consumers, herbivores and fire.
Most herbivores graze/browse below 2/3m high, most fires damage below 2-4m high. This is a problem for seedlings as to become trees they have to escape this danger zone. A zone which has been coined as the '
fire trap
'
Trees then employ a strategy to try break free from this fire-trap before being burned down again. As lignotuber sprouters get destroyed and have to grow again from the storage root (ground level) its a tough challenge to grow 3-4 m, out of the fire trap, before being wiped out again.
Acacia nigrescense
, amoung others employ a pole type growth form. They utilize alot of reserves to send up a single pole stem as fast and as high as possible to try overcome trap. This is visable in the growth form of many resprouter species in fire disturbed savannas.
This is evident at kruger when studying the lignotubers in different burn frequency areas. At frequent or intense burning sites the 'saplings' are still below the fire trap, and pole-like. The dating of the lignotubers though show that these 2m high 'saplings' are infact
30 years old
+
Many spend their whole lives as 'saplings'
WJ BOND of UCT called this life history
Gullivers
as the giant trees were being kept down, trapped by the fire much in the same way as Gulliver was tied down when he arrived on lilliput by the lilliputians. Here acacias are being hindered by the lilliputian fire until they are released. When gulliver was released he stood tall. The same as acacias once they escape the 'fire-trap'
Gilliver (acacia) being restricted by the lilliputians (fire) until release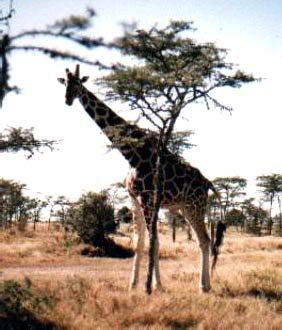 Note the pole growth form of the tree in the foreground and the trees in the background. In an attempt to escape the
fire trap
.best picture i could find im sorry but it shows the pole growthform well compared to other acacia areas with the same species more concerned with surviving browsing than fires.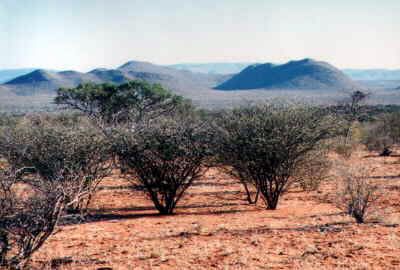 Cage growth form taken in a goat farm where fire has been removed and browsing is done by goats, who eat everything around
Areas of browsing disturbance see many species, such as mopane and acacia opt for a different strategy in life history and architechture. Instead of allocating starch to massive root stores, browser effected species have smaller lignotubers as much carbon is stored in stems. Topkill by browsers is rare in comparison to that of fire. Its safe enough to store carbon above ground. These are not fire resistant but form the cage with short ramified shoots, creating a shrub/bush appearance like above.
Adult trees may look quite similar in appearance but the difference in life history traits to overcome fire/browser traps are obvious.
Shrub form is therefore a result of browser protection strategy as apposed to a fire resultant pole strategy. The
"short and fat"
mopane bushes definately were as a result of the browsing activity you observed lam, well noted!
of course soil plays a role in growth as nutrient levels effect all living things. Physical composition would play a part in recovery as clay type wetlands may reduce oxygen avaliability for lignotubers which is crucial for respiration and growth. Soil porosity etc and aeration would control recovery periods but pole type lignotubers in waterlogged soils follow regular pole growth patterns after months when the soil becomes oxygenated.
Quote
The destruction of the young trees in the park is becoming a problem in that they do not reach maturity before being burnt down
as for becoming a problem not reaching maturity the sprouters have evolved this life history strategy to cope with regular fires (2-3years) and those periods of irregular fires (sometimes shorter periods sometimes longer). The game they are playing works in this environment as most of the large trees in such disturbed environments are sprouters. Not to worry then Naturesguy some acacia in kruger are 1m tall and 30 years old. They live for most of their life trying to escape the trap and are the tortoise in the race against the hare, a strategy that works for some- acacia and mopane included.
So those are some thoughts. Some from me, but most from personal communication with WJ BOND and JJ MIDGLEY in the field with the UCT Botany department