Moderator: hilda
Jumbo
Cut-throat Finch: what a gruesome but also very descriptive name for this beautiful little bird. I took this photo in Marloth. According to my very old Sasol guide you are actually not suppose to find them in the south-eastern parts of Kruger
---
Nice photo Jumbo. It does seem a little far south for them but not to far from their natural distribution. Also agree that it is a very descriptive name.
These ones were photographed in the camping area at Letaba
Male
Female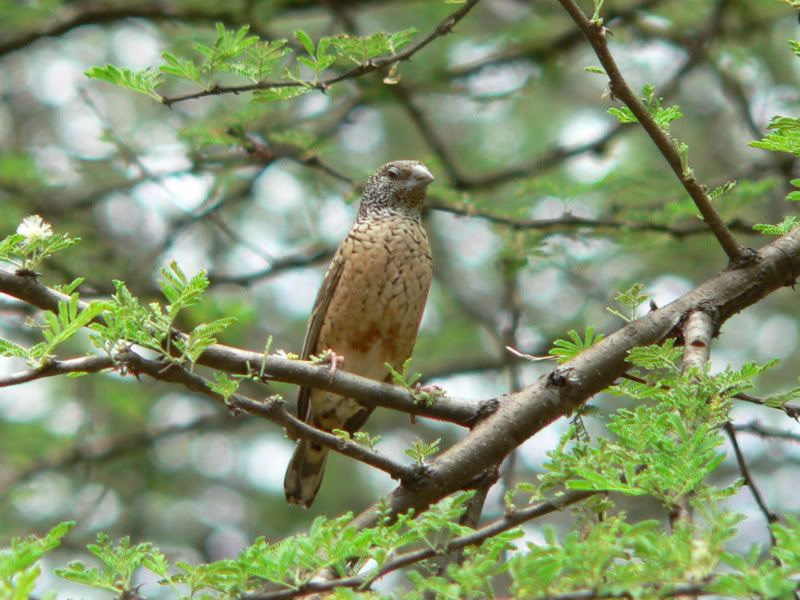 ---
Moderator

Posts: 12540
Joined: Tue Mar 22, 2005 6:31 pm
Location: Ballito, KZN North Coast, South Africa
We have seen cut throat Finches at Ngwenya, which is not far from Marloth for the last 2 years now.
They are lovely little birds and the name is very descriptive really, but gruesome, I agree.
Where ever you go, go with all your Heart.
Kruger - 22nd May - 5th June 2015
---
Virtual Ranger

Posts: 2437
Joined: Fri May 12, 2006 4:10 pm
Location: SA
Contact:
We saw a few at the Letaba Shop in December, 2007.
---
Moderator

Posts: 45353
Joined: Thu Dec 30, 2004 5:54 pm
Location: Somerset West, Cape Town
Satara Rest Camp, Kruger, March 2009
Sawubona
Dalene
---
Legendary Virtual Ranger

Posts: 9309
Joined: Sat Feb 18, 2006 10:36 pm
Location: Lausanne (Switzerland)
some birds to ID please
3) 14.10 near Satara
????????
It is only with the heart that one can see rightly, what is essential is invisible to the eye
Le Petit Prince
planing KTP janv/fev.2016
---
Senior Virtual Ranger

Posts: 4107
Joined: Sun Mar 20, 2005 5:53 pm
Location: Cambridge, MA (and home from home in Darling, WC)
Nice birdies, anne-marie!
#3 - that's a cut-throat finch and I'm very
as I have yet to see one.
RSA 2014
20-16 Oct Joburg
27-30 Oct Mapungubwe: Limpopo forest tented camp, Leokwe camp
31 Oct-1 Nov Pafuri River Camp
2-15 Nov KNP: Punda Maria, Sirheni, Olifants, Tamboti, Skukuza
16-22 Nov Cape Town
23 Nov-20 Jan Darling
---
The third bird is a Cut-throat Finch.
"Weaseling out of things is important to learn. It's what separates us from the animals ... except the weasel." -Homer Simpson
---
Legendary Virtual Ranger

Posts: 9309
Joined: Sat Feb 18, 2006 10:36 pm
Location: Lausanne (Switzerland)
thanks a lot arks and deefstes
not easy to identify
It is only with the heart that one can see rightly, what is essential is invisible to the eye
Le Petit Prince
planing KTP janv/fev.2016
---
Legendary Virtual Ranger

Posts: 5470
Joined: Thu Dec 02, 2004 10:27 am
Location: Chasing down the rarities
666
Latest Lifer(s): Buff-spotted Flufftail, Tree Pipit, Dimorphic Egret, Lesser Jacana
Follow me as I bird on Twitter
@wildtuinman
---
---
Return to "Birding in Southern Africa"