Moderator: lion queen
Senior Virtual Ranger

Posts: 4186
Joined: Sun Mar 20, 2005 5:53 pm
Location: Cambridge, MA (and home from home in Darling, WC)
Here are a few more puzzlers:
3. Is this a "wild" zinnia?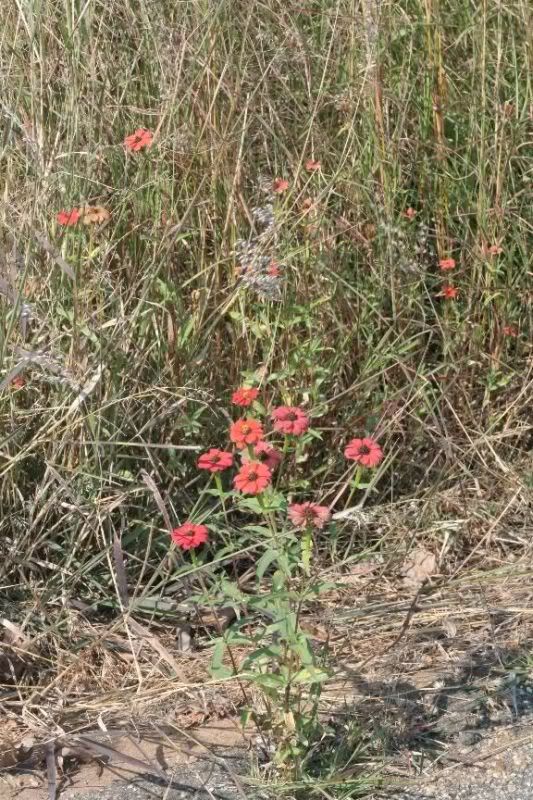 Thanks!!
Last edited by
arks
on Sat Feb 23, 2008 8:10 pm, edited 1 time in total.
RSA 2015
1-30 June Darling
30 June-8 July National Arts Festival, Grahamstown
8-15 July Mountain Zebra
16-22 July Cape Town
* * *
16-28 November Cape Town
29 November-20 January Darling
---
Distinguished Virtual Ranger

Posts: 14488
Joined: Wed Aug 31, 2005 12:28 am
Location: Pretoria, RSA

3. Yes, this is Zinnia peruviana (Redstar Zinnia / Wildejakobregop). It is an alien weed, from South America. Widespread in S.A.
Imberbe = Combretum imberbe = Leadwood = Hardekool = The spirit of the Wildernis!

Want to know more about the SANParks Honorary Rangers? Visit www.sanparksvolunteers.org
One positive deed is worth more than a thousand critical words.
---
Virtual Ranger

Posts: 862
Joined: Fri Dec 30, 2005 10:33 am
3. Definetly Zinnia Peruviana.
---
Senior Virtual Ranger

Posts: 4186
Joined: Sun Mar 20, 2005 5:53 pm
Location: Cambridge, MA (and home from home in Darling, WC)
Thanks Imberbe and Mark! I love zinnias, which are a summer garden annual here, but had never seen them growing wild before ... too bad they're an alien
However, these were not seen in a national park, but along the Panorama Route
Still an alien, but not so bad as a alien seen inside a national park.
RSA 2015
1-30 June Darling
30 June-8 July National Arts Festival, Grahamstown
8-15 July Mountain Zebra
16-22 July Cape Town
* * *
16-28 November Cape Town
29 November-20 January Darling
---
---