Moderator: hilda
Posts: 59
Joined: Sun Jan 30, 2011 9:59 pm
Location: In the belly of the Concrete Jungle *sigh*
Go! Magazine has published a special edition (2011) based purely on the Kruger National Park! I just recently bought it. I am not sure for how long it will still be on the shelves in stores so try get yourselves a copy!
It's R36.95 and it has everything in it from the camps to the bush wilderness trails and the picnic spots....etc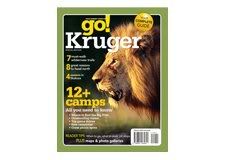 Official SANParks Honorary Ranger!
Please visit my KNP blog:
http://thekrugerchronicles.wordpress.com
December KNP:
16 - 18: Punda Maria
19: Shingwedzi
20 - 23: Mopani
---
HI, I also have one. bought it a few weeks back.
Its perfect for a kruger beginner especially.
Its a good book to have with wonderful tips for campers mainly but everybody else as well.
---
Posts: 59
Joined: Sun Jan 30, 2011 9:59 pm
Location: In the belly of the Concrete Jungle *sigh*
Yes it does slant towards the 'campers' and the 'KNP beginners'....however it is still a nice 'keepsake'
Official SANParks Honorary Ranger!
Please visit my KNP blog:
http://thekrugerchronicles.wordpress.com
December KNP:
16 - 18: Punda Maria
19: Shingwedzi
20 - 23: Mopani
---
Hey guys,
Its a good read.
Fantastic way to learn about the basics of Kruger and camping there.
Good articles on the northern part of the park
---
Distinguished Virtual Ranger

Award: Quiz Whiz of the Year (2014)
Posts: 6773
Joined: Thu Jan 20, 2011 8:58 am
Location: Far South in South Africa.
Hi TreeQueen, what a magazine
Thank you for your info. I think this is a magazine not only for the rookies, but for all nature lovers
"Lose yourself in Nature and find Peace!" (Ralph Waldo Emerson)
UNITE AGAINST POACHING...What we protect,
do not let poachers take it away!
Extinction is forever and survival is up to---every last one of us!
---
I consider myself lucky to live in a small "plaasdorpie" (place where guinea fowl are your alarm clock
Saw on the shelves today about 30 copies still of this Kruger must have!
I guess we don't have much Kruger fans where we live or they don't know of this Special Edition
If all else fail, just PM me with your details and I'll gladly send you a copy.
This must be shared, thanks again TreeQueen for sharing
and GO! you're the best
Those in glass houses should not throw stones...
---
Junior Virtual Ranger

Posts: 1989
Joined: Sat Jun 06, 2009 9:20 pm
Location: East London, South Africa
It says in my copy of Go Kruger : If you have any questions or would like to buy a copy of go! kruger - contact Anselie Hoffman on 021 446 1044 (overseas mites - that is 027214461044. Or email
verkope@media24.com
. Exclusive Books may also have copies. I got my SO and my son a copy each for Christmas. We both read it from cover to cover and will definitely be taking it with us in May when we go to Kruger. A comprehensive guide for Kruger lovers. Big thanks to Media 24 for this publication.
Berg en dal 13 - 17 August 2015
Satara 18 - 24 August 2015
Shingwedzi 25 -29 August 2015
Letaba 30 Aug - 05 Sept 2015
Skukuza 06 - 12 Sept 2015
Crocodile Bridge 13 - 20 Sept 2015
---
Posts: 38
Joined: Mon Apr 20, 2009 1:04 pm
Location: Johannesburg
I have been subscribing to Go! magazine for some months - it is excellent IMHO.
Go! ran a series of very good articles on all of the camps in KNP and then did the same thing for other SANParks. The Kruger special edition is a collation of those articles - plus.
Go! also has an excellent website and for information on KNP go to [url=http://www.gomag.co.za/kruger/index.html[url]
There is information about all of the camps with many photographs, recommended routes - in fact all of the information that one would need for travelling to and through KNP.
Incidentally, Getaway also published a guide to KNP (first published 2005). It too is full of useful information and photos (224 pages)
The best KNP "reference" that I have ever come across is the book written by Wilf Nussey with photos by David Paynter. It was first published in 1986 and the content is still relevant today - not much has changed in KNP in terms of camps and roads. It is still a great book to dip into before, and after, a trip to KNP, I reckon.
If you do not have a copy, I strongly suggest that you look in all of the second hand bookshops that you can find!
THINK WIN-WIN
---
---