Guru

Posts: 205
Joined: Fri Mar 01, 2013 11:37 am
Please note that we do have Scorpions everywhere in the park. They reside in different vegetations within the park e.g some are more dominant in the mountains. However, Parabuthus scorpions are more dangerous compared to others. Above all scorpions are more active in summer.

We have a scientifc musueam as Skukuza wherein, all Scorpions which are dominant in the park are displayed as well as information on their behaviour.
---
Saw loads and loads in Shimuwini in December . Did not walk a step outside without a torch they were all round the cottage. I bought a brilliant uv light on line from a supplier in Johannesburg found by google - was not cheap but makes the scorpions look like aliens = stunning
---
Whilst in Letaba rest camp doing some work on bats at the beginning of the year I encountered this fella, Parabuthus transvaalicus, an awesome specimen and I was beyond privileged to have spent time admiring it!
For those of you who do not know, this species, and in fact all the other species in this family, are considered medically important and one should seek medical attention immediately if stung. One should also be careful of getting too close to some of the individuals in this family as they are said to be able to spray their venom a short distance however I have never personally had the privilege of seeing this.
Avid birder, wildlife enthusiast and photographer with a special interest in Bats and Birds
2014 Birding Big Year- A 365 Day quest for 800 Species of Southern African Birds
---
Virtual Ranger

Posts: 3210
Joined: Sun Apr 19, 2009 4:09 pm
Location: In the heart of the Waterberg; Deep in Limpopo
Ah! yes! We found one of these in our chalet in Shingwedzi last November....... in the bedding
Fortunately neither of us were stung and, having reported it to the camp manager, it was removed and deposited back into the veldt. It had apparently made a nest(?) in the base of the bed underneath the mattress and could have been there for some time.
Would not recommend walking barefoot when these are around.........
"Democracy is two wolves and a lamb voting on what to have for lunch. Liberty is a well-armed lamb contesting the vote."
Benjamin Franklin


Mokala (Motswedi Camp) 13 - 17 May
Karoo National 17 - 24 May
Addo 24 - 28 May
Then home - maybe!
---
So I bought myself a UV torch.
Searched the ground and trees thoroughly in the camps we stayed in: Skukuza and Satara yielded nothing.
But there were loads of these in the trees at Lower Sabie.
Mostly in small holes or under bark, but this one came out and was walking along a branch.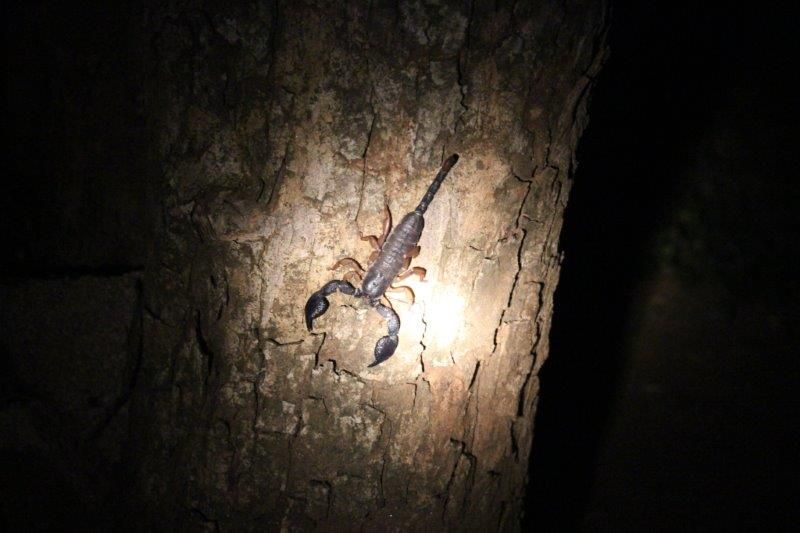 Using a normal torch.
Under the UV torch.
---
Trrp-trrrrrrrr wrote::big_eyes: That is one massive scorpion

...Yoda.

Thanks for sharing
Thanks.
Yup, it was about 10cm or so.
Does anyone know what species it is?
I have Jonathan Leeming's book, but can't quite seem to match it up.
---
Any takers on identifying this critter? Looks like it could be a juvenile parabuthus Transvaalicus? Saw two of them in Shingwezi around the braai last week - probably about 2 inches pincers to tail, so small in size. Had a confirmed sighting of a large parabuthus Transvaalicus last month, also in Shingwezi, but this one is much smaller and far lighter in colour.
"Take nothing but memories, leave nothing but footprints"
Photographs help to crystallize memories, but cannot be seen to be a replacement of them!
---
---
Return to "Insects and other invertebrates"