Moderator: hilda
Looks like I could do with a Raptor book, got 4/8 but actually really pleased with that
Well done Umtali
Thanks to Barry and Hilda for these quizzes, I know my score doesn't reflect it. It they are helping my bird knowledge
Skukuza 16/10/15 to 21/10/15
Lower Sabie 22/10/15 to 24/10/15
Satara 25/10/15 to 29/10/15
Skukuza 30/10/15
Fly Home 31/10/15
---
Forum Assistant

FAC Member (2014)
Posts: 14600
Joined: Fri Apr 06, 2007 6:39 am
Location: Pretoria SA
Not all that bad Merlin11, 4/8 is 50% which is PASS in my book!
Keep on trying! That's the only way we will learn!
What do the Ducklings want? Shall we offer another Raptor Guide as a next prize (if it is available), since the Pipits is no longer available? Kindly let us know!
The secret of life is not to do what you like, but to like what you do. - Unknown.
---
Thanks Hilda, the quizzes are helping my book navigation to improve and ..... We enjoy them
that's all that is important
Skukuza 16/10/15 to 21/10/15
Lower Sabie 22/10/15 to 24/10/15
Satara 25/10/15 to 29/10/15
Skukuza 30/10/15
Fly Home 31/10/15
---
Moderator

FAC Member (2013)
Posts: 5834
Joined: Fri Dec 30, 2011 1:09 pm
Location: Pretoria, SA
Morning All,
Here are the results by bird and answers to challenge 21 of 2015.
We had a total of 11 participants for this challenge and I want to thank you all for taking the time from your busy schedules to make effort to participate and learn more about raptors
.
During the marking of this challenge it became apparent that we need some more raptor challenges to learn what to look for during the ID process
.
I have included the number of 'mites who got the ID correct of the total of 'mites that participated to give us an idea where the main struggles occurred.
1.
Whalbergs Eagle: [6/11] Ad dark morph:
Head dark brown, crown slightly paler rufous; nuchal crest (sometimes held flattened) distinctive. Body, wings and tail dark brown, upper wing coverts narrowly edged paler brown, contrasting slightly with blackish-brown flight feathers. Bill blackish; cere and large, fleshy gape yellow. Eyes brown. Shaggy leggings brown; toes yellow.
2.
Juvenile Martial Eagle: [8/11] Juv:
Crown and nape whitish, streaked dark grey; crest shorter than ad. Upper parts dark grey, feathers edged whitish, forming distinct scaling on mantle and wing coverts when fresh. Tail and flight feathers similar to ad, but barring greyer. Underwing coverts whitish, lightly marked pale grey. Underparts whitish, with grey-brown mottling on sides of breast. Cere greenish grey. Eyes dark brown. Feet greenish grey.
3.
Immature Little Sparrow Hawk: [3/11] Juv:
Upper parts brown, feathers tipped buff; upper tail coverts tipped white. Tail dark brown, buff-tipped, with 3-4 darker bars. Underwing coverts lightly spotted blackish. Underparts white; throat sparsely streaked blackish brown. Breast, belly and flanks with large, rounded brown spots. Eyes pale yellow.
4.
Dark Chanting Goshawk: [6/11] Ad:
Upper parts, incl head, grey. Upper tail coverts narrowly barred grey and white, central rectrices black, tipped white; remainder of tail broadly barred black and white1. Upper wing coverts grey, feathers with dark shafts. Flight feathers indistinctly barred grey and dark grey; little contrast between primaries and secondaries, but outer primaries broadly tipped blackish. Underwing coverts white, very finely barred grey, contrasting with dark flight feathers. Chin to upper breast grey. Remainder of underparts white, finely barred grey. Bill basally red, distally dark grey; cere and adjacent naked facial skin red. Eyes dark brown. Legs and feet red.
Confusing species:
Pale Chanting Goshawk larger, less compact, and paler grey, with longer legs, whitish upper tail coverts, contrasting primaries and secondaries, and pale grey patch in folded wing.
5.
Armur Falcon: [10/11] Ad female:
Forehead and cheeks white. Crown to nape grey. Small malar stripe and mask around eye black. Remainder of upper parts pale grey, with coarse, dark barring. Tail pale grey, with fine darker grey bars and broad subterminal bar. Undersides of flight feathers whitish, with coarse dark grey spotting and/or barring; underwing coverts whitish, with some black markings. Throat white; remainder of underparts whitish, with bold, dark streaking on upper breast, barring on lower breast and belly. Vent pale red-brown. Undertail pale grey, with coarse spotting and/or barring.
6.
Barn Owl: [10/11]
No problems here.
7.
Hooded Vulture: [10/11]
No problems here.
8.
Shikra: [2/11]
This was the bird that gave the most problems. Maybe it is because we are looking for the obvious ID pointers and normally concentrate on the male of the species.
Ad:
Head and upper parts to upper tail coverts mid-grey (incl upper wing coverts, which have some white spotting). Flight feathers dark grey. Underparts whitish, throat finely barred grey, breast to belly finely barred reddish brown. Vent and undertail coverts white. Undertail grey, with 5 darker bars. Bill dark grey; cere yellow, bulbous and prominent. Eyes bright red in male, orange in female. Legs and feet yellow.
Confusing species:
Easily confused with Ovambo and Little Sparrowhawks, and Gabar Goshawk. Differentiated by combination of soft-part coloration, rump, upper tail and underpart patterning. Unbarred central rectrices of ad, and bright red eye of ad male, unique. Juv most similar to juv Gabar Goshawk, but latter has orange, not yellow, cere and legs; head more prominently streaked. Breast with brown streaks (not rust-coloured spots), and fewer tail bars (4-5 vs 6-7).
Also read
Here
where discussions took place for further ID pointers.
Always be humble and understanding
---
Moderator

FAC Member (2013)
Posts: 5834
Joined: Fri Dec 30, 2011 1:09 pm
Location: Pretoria, SA
Here is challenge 22 of 2015.
Due to the fact that the main objective of these challenges are to test our ID levels and to learn more, I have decided to compile another raptor challenge for this week.
I hope the birds that I chose is more straight forward and that we can all learn a bit more about these awesome birds.
Enjoy the challenge
.
1.
2.
3.
4.
5.
6.
7.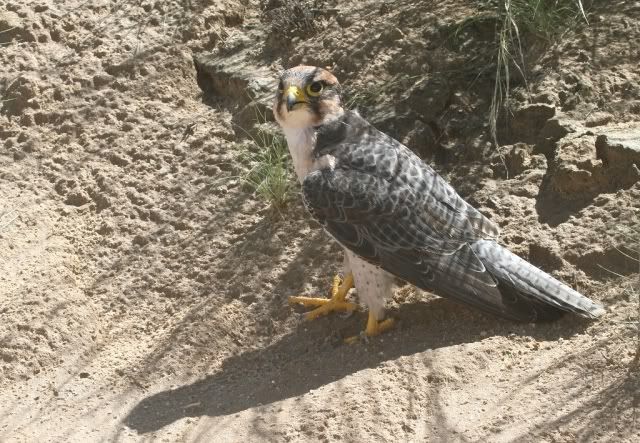 8.
Always be humble and understanding
---
---
Return to "Birding in Southern Africa"