Calamonastes stierlingi, they say it is a common resident in Sabi-Limpopo valley and up northeast.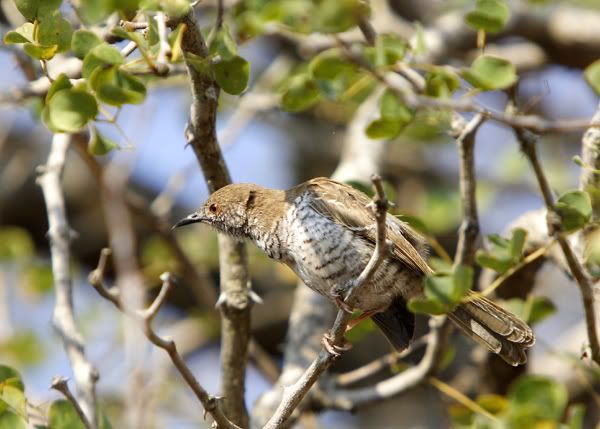 ---
Junior Virtual Ranger

Posts: 96
Joined: Sun May 29, 2005 11:45 pm
Location: Pretoria, for now
Saw this adult last year July, and then a Juvenile almost at the same spot on Thursday!
Stierling's Wren-Warbler
Stierlings's Wren-Warbler J
There's never a reason to shout at someone unless they are in imminent danger!
---
Great sighting!!

One of my Kruger wishlist birds!!
---
This is a great bird and its distinctive call can be heard in many parts of the park. I've been close to seeing it at Biyamiti on a few occasions. However without exaggerating I would say I have followed up and tried to view this bird on more than 30 occasions from hearing its call and it still eludes me 7 years on...
Mana Pools: 11th - 20th Oct
KNP: 27th Nov - 5 Dec
---
Legendary Virtual Ranger

Posts: 5529
Joined: Thu Dec 02, 2004 10:27 am
Location: Chasing down the rarities
668
Latest Lifer(s): Buff-spotted Flufftail, Tree Pipit, Dimorphic Egret, Lesser Jacana, Citrine Wagtail, Black-tailed Godwit
Follow me as I bird on Twitter
@wildtuinman
---
Nice going WTM, much better than the ones we got at Die Eiland.
---
Legendary Virtual Ranger

Posts: 5529
Joined: Thu Dec 02, 2004 10:27 am
Location: Chasing down the rarities
668
Latest Lifer(s): Buff-spotted Flufftail, Tree Pipit, Dimorphic Egret, Lesser Jacana, Citrine Wagtail, Black-tailed Godwit
Follow me as I bird on Twitter
@wildtuinman
---
---
Return to "Birding in Southern Africa"
Who is online
Users browsing this forum: No registered users and 1 guest