We will be ground tent camping for the first time - Nossob and 2R - and my companion is very nervous about puffies and scorpions.
Are we likely to find lots of Puffies over the camping areas under tents and cobras in the trees etc? I have tried to reassure her that many thousands of campers do this throughout the year - including kids in slops - and no-one seems to have been bitten. She has a good pair of hiking boots. She keeps on surfing the web looking at roof top tents!
I have meanwhile purchased 2 scorpion torches to keep her occupied at night
Have any of the larger predators - lion - leopard - hyena ever been seen in the camps at night - not referring to the smaller stuff like jackal.
Please tell it like it is - no PR spin!!
---
Junior Virtual Ranger

Posts: 391
Joined: Tue Aug 06, 2013 6:29 am
Location: Benoni, East Rand
And I am also listening here. Although I think it's me that's a bit scared of the goggas and stuff and not my wife.
---
Well my lady wants to know how you prevent scorpions running up your legs when you are sitting at night at those tables in the camping areas!

Thank goodness she hasn't thought about spiders yet!

She loves going to the Parks but in chalets....I enjoy camping. I am hoping to convert her - nothing like fear of the unknown.
---
Forum Assistant

Posts: 13353
Joined: Tue Oct 06, 2009 5:03 pm
Location: Upington RSA
Snakes it really depends on the time of year. During the cooler months the chances will be slim.
This was December in Mata Mata camping grounds.........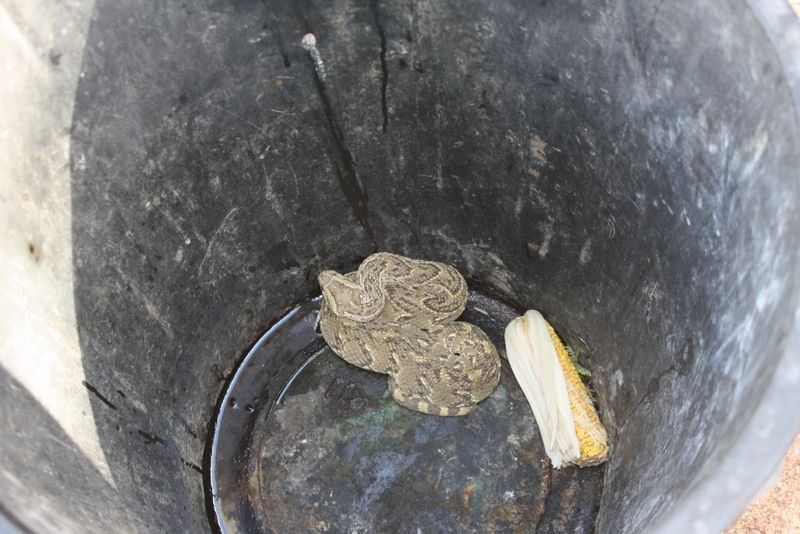 There have been over the years been reported sightings of larger predators in the camps.
You only live once, but if you do it right, once is enough - Mae West
---
Interesting - how would the snake be removed? Are the rangers snake catchers??
---
I have never had any serious experiences regarding scorpions or snakes while camping, BUT family rule of wearing closed shoes when the sun goes down has probably saved us a few times from possible scorpion stings. Scorpions abound in KTP, but with usual, common sense precautions, absolutely nothing to be too concerned about.
"Take nothing but memories, leave nothing but footprints"
Photographs help to crystallize memories, but cannot be seen to be a replacement of them!
---
Forum Assistant

Posts: 13353
Joined: Tue Oct 06, 2009 5:03 pm
Location: Upington RSA
mistral wrote:Interesting - how would the snake be removed? Are the rangers snake catchers??
Yes, the rangers came down to the camping grounds and caught the snake, put him in the empty trash can and released it back into the park.
If you do spot a snake in the cam, report it to reception and keep a safe distance while keeping an eye on the snake in case it does move from where you saw it the first time.
You only live once, but if you do it right, once is enough - Mae West
---
Mistral,
I have been to KTP more than a dozen times while residing in Hermanus (like yourself) and I am still here
To be honest your wife don't have to worry about scorpions and snakes - we never encountered any threatening situation by any of these creatures - just use your common sense and you will be more than fine. We have a standard ruling - when we enter the tent - close the zip behind you even if it is just to "quickly" get something from inside - then you can sleep like a baby because you are sure that the tent is "clean" and that nothing can "bite" or irritate you when sleeping - if done properly it's even safer than to sleep in a chalet (with all the openings etc) - I had a more serious situation in Hermanus when on a Sunday morning while our neighbors were away a Cape Cobra bit their dog (and we were helpless and just too late to prevent it) - and helplessly experienced the whole sequence of events.
There is no reason to be in a more "dangerous" position while camping as when you are in a chalet in KTP - on the contrary ...
My advice is just go and enjoy it - its an unbelievably awesome place and you will go again and again and again ....
If your wife is still somewhat "unsure" I will be more than willing meet with you to put her mind at ease.
---
Mistral, I agree with Jan (I'm also in Hermanus!). My husband and I have been to KTP about 5 times now and have only come across snakes in the road. I do think though that one has to be sensible and aware that they are around, but they are really not that threatening to your enjoyment of KTP. As a woman, the thought of snakes does not put me off camping in KTP (or anywhere else for that matter
) Enjoy!
---
Junior Virtual Ranger

Posts: 1904
Joined: Tue May 19, 2009 2:15 pm
Location: Johannesburg - too far from the closest Sanpark
What time of the year are you going?

Remember, tents are sealed (generally) whereas chalets/bungalows are not (windows, cracks, pipes etc). I'd much rather be in a tent than building, if I was scared of these things, bugs too.
The 'mite formerly known as joshilewis
FGASA Level 1 Guide
Glen Reenen TR
15-18 June: Berg-en-dal
---
Legendary Virtual Ranger

Posts: 10016
Joined: Wed Mar 16, 2005 12:38 pm
Location: In the shadow of Table Mountain
In my 8 times in KTP the only 'scary' scorpion incident was in a chalet. We found it in the morning after we had 'safely' gone to the loo in the night without footwear.
It is just common sense.
If you come across a snake/scorpion, DON"T MESS WITH IT. It is NOT looking to attack you, but probably for prey (which you are NOT), or just minding its own business.
All snakes there, other than puff adders will be hell bent on getting away from you.
Puffies will lie dead still hoping you won't notice them. The problem is that if you DON"T notice them you could stand on them and THAT is a problem, so watch where you walk. I have only seen 1 or 2 and never in camp.
Scorpions are more likely to be out on windy nights (when their flying prey is likely to be grounded).
Just wear closed shoes and walk with a torch. I have only seen about a dozen in total on 8 trips.
Animals in camp....Ja/nee.
We have seen a brown hyena scurrying around 2R in the early morning, but it ignored my son who saw it plod past him in front of our chalet.
2 years ago we arrived at 2R a day too late to see the capture of a leopard that had been in camp for 4 nights.
Common sense!
1. It is a 'wild' area so be alert - not panicky - at all times.
2. Predators have their normal prey in abundance so you are not on the menu - unless you provoke........
Whatever (according to BB): "You are correct but I don't want to admit it".
---
Mistral, I can recall quite a few "snakes in camp" experiences....the possibility of meeting up with a puffy or cobra is very real. But as everybody says, you must just be cautious - never walk around at night without a torch. Oddly, I've never seen a scorpion in Kgalagadi.
Animals in camp - in the late 90's we had a lion in the camp at Mata Mata, and a few years later a leopard named Clive was a regular in Nossob camp. The fences have been raised since( although I don't suppose anything will keep a leopard out).
My missus was also a raw camper when I first took her there. Now she can't wait to get back whenever we leave .
Enjoy!
---
---
Who is online
Users browsing this forum: No registered users and 1 guest