Moderator: lion queen
Senior Virtual Ranger

Posts: 4107
Joined: Sun Mar 20, 2005 5:53 pm
Location: Cambridge, MA (and home from home in Darling, WC)
These are two trees that I am trying to ID from pix of the seedpods, both seen in northern KNP in October 2008.
2. The only tree I can find in my fiedlguide to KNP trees that has curly pods like this is the sickle bush, but this tree, seen at Crooks Corner (it's right next to the new hstorical tablet) seemed far larger than a sickle bush?
Seen on 17 October 2008.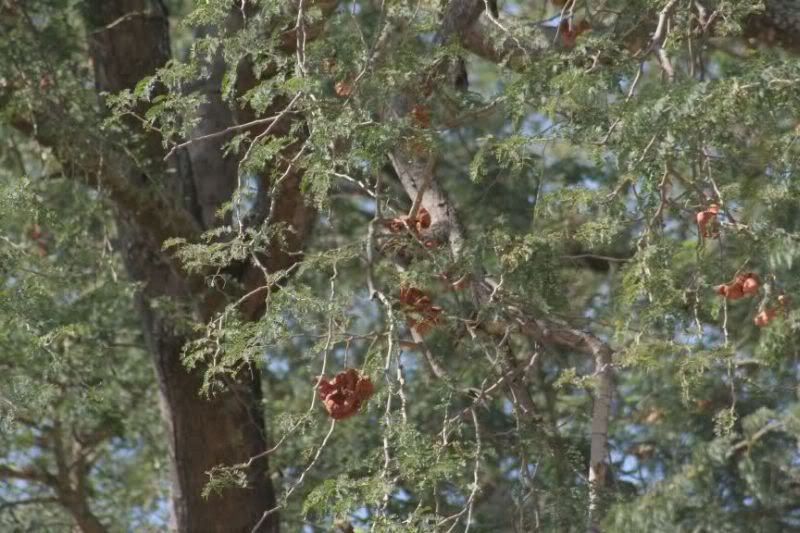 Any help is much appreciated!
RSA 2014
20-16 Oct Joburg
27-30 Oct Mapungubwe: Limpopo forest tented camp, Leokwe camp
31 Oct-1 Nov Pafuri River Camp
2-15 Nov KNP: Punda Maria, Sirheni, Olifants, Tamboti, Skukuza
16-22 Nov Cape Town
23 Nov-20 Jan Darling
---
Junior Virtual Ranger

Posts: 2626
Joined: Tue Sep 16, 2008 11:11 pm
Location: Sunninghill(JHB), Vaalwater & Beauty(Waterberg), Grahamstown(E.C)
Possibly an Ana Tree.....Can't see the thorn/spine structure unfortunately...But doesnt look like much of a Sickle Bush
STIFFNECKS MEMBER
FGASA LEVEL 1
---
Distinguished Virtual Ranger

Posts: 14420
Joined: Wed Aug 31, 2005 12:28 am
Location: Pretoria, RSA
I do agree!
Imberbe = Combretum imberbe = Leadwood = Hardekool = The spirit of the Wildernis!

Want to know more about the SANParks Honorary Rangers? Visit www.sanparkshr.org
One positive deed is worth more than a thousand critical words.
---
Senior Virtual Ranger

Posts: 4107
Joined: Sun Mar 20, 2005 5:53 pm
Location: Cambridge, MA (and home from home in Darling, WC)
Thanks, RJ and Imberbe. I'd never have guessed ana tree from the pix in my fieldguide, but now that you've pointed me in that direction, it looks like that's the one!
RSA 2014
20-16 Oct Joburg
27-30 Oct Mapungubwe: Limpopo forest tented camp, Leokwe camp
31 Oct-1 Nov Pafuri River Camp
2-15 Nov KNP: Punda Maria, Sirheni, Olifants, Tamboti, Skukuza
16-22 Nov Cape Town
23 Nov-20 Jan Darling
---
Junior Virtual Ranger

Posts: 2626
Joined: Tue Sep 16, 2008 11:11 pm
Location: Sunninghill(JHB), Vaalwater & Beauty(Waterberg), Grahamstown(E.C)
Pleasure Arks
STIFFNECKS MEMBER
FGASA LEVEL 1
---
---