Moderator: RosemaryH
Distinguished Virtual Ranger

Posts: 14427
Joined: Wed Aug 31, 2005 12:28 am
Location: Pretoria, RSA
Do you need an animal to be identified?

Post your photo here.

Ad as much relevant info as possible. Where did you see the animal, what time of year was it, what was it doing, was it alone ....
Imberbe = Combretum imberbe = Leadwood = Hardekool = The spirit of the Wildernis!

Want to know more about the SANParks Honorary Rangers? Visit www.sanparkshr.org
One positive deed is worth more than a thousand critical words.
---
Can anyone identify this cub for more please? there were two together hiding by the side of the road, we guessed either jackal cubs or maybe fox?
---
---
Can anyone help us out with this at all please. Initially when we were there we were told they are Black Footed Cats since I have checked them online when getting back I'm not sure. They were a long way off and spotted at a water source at the eastern end of the S100 at the beginning of April.
Looking at the pictures now the stripes look a little like banded Mongoose but these were huge animals compared to a Mongoose.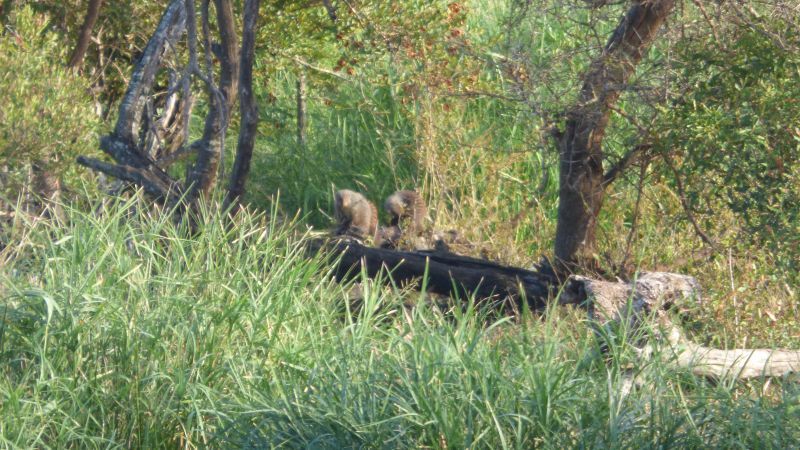 KNP - Sept 2013 - 5 Days
KNP - Sept 2014 - 7 Days
KNP - April 2015 - 7 Days
KNP - October 2015 - 7 Days
---
Moderator

Posts: 12670
Joined: Tue Mar 22, 2005 6:31 pm
Location: Ballito, KZN North Coast, South Africa
Certainly look like Banded Mongooses to me!
Where ever you go, go with all your Heart.
Kruger - 22nd May - 5th June 2015
---
Distinguished Virtual Ranger

Posts: 22164
Joined: Tue Dec 23, 2008 5:22 am
Location: Midway between the infinite and the infinitesimal!
Banded mongooses. They are often larger than expected (many people think mongooses are rat-sized, which some are), but their bandings and mongoose faces are unmistakable.
---
Thanks guys for confirming the Banded Mongoose.
KNP - Sept 2013 - 5 Days
KNP - Sept 2014 - 7 Days
KNP - April 2015 - 7 Days
KNP - October 2015 - 7 Days
---
---