Moderator: RosemaryH
Distinguished Virtual Ranger

Posts: 14463
Joined: Wed Aug 31, 2005 12:28 am
Location: Pretoria, RSA
Do you need an animal to be identified?

Post your photo here.

Ad as much relevant info as possible. Where did you see the animal, what time of year was it, what was it doing, was it alone ....
Imberbe = Combretum imberbe = Leadwood = Hardekool = The spirit of the Wildernis!

Want to know more about the SANParks Honorary Rangers? Visit www.sanparksvolunteers.org
One positive deed is worth more than a thousand critical words.
---
Can anyone identify this cub for more please? there were two together hiding by the side of the road, we guessed either jackal cubs or maybe fox?
---
Forum Assistant

FAC Member (2013)
Posts: 3833
Joined: Fri Sep 08, 2006 6:06 am
Location: Boons NW
Perhaps a Black backed jackal pup Slow Mo.
Rose
Please read the green gate permit you will receive on entry to the park and stick to the rules.

Remember By Feeding Any Wildlife You Are Signing Their Death Warrant, As They Become Aggressive.

---
Can anyone help us out with this at all please. Initially when we were there we were told they are Black Footed Cats since I have checked them online when getting back I'm not sure. They were a long way off and spotted at a water source at the eastern end of the S100 at the beginning of April.
Looking at the pictures now the stripes look a little like banded Mongoose but these were huge animals compared to a Mongoose.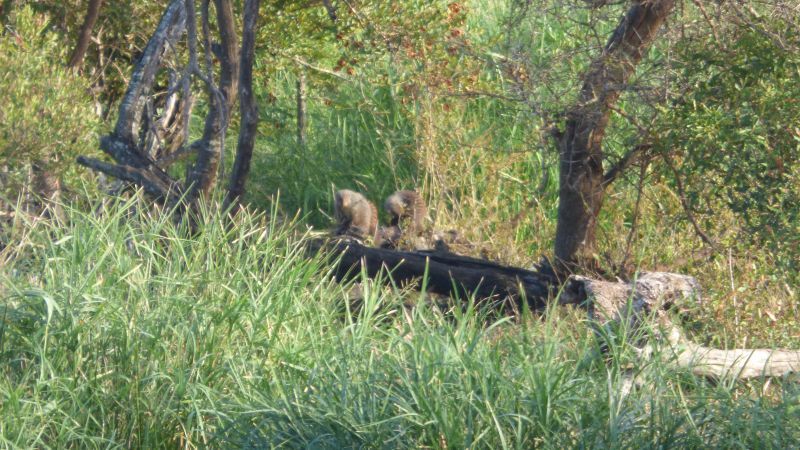 KNP - Sept 2013 - 5 Days
KNP - Sept 2014 - 7 Days
KNP - April 2015 - 7 Days
KNP - October 2015 - 7 Days
---
Moderator

Posts: 12830
Joined: Tue Mar 22, 2005 6:31 pm
Location: Ballito, KZN North Coast, South Africa
Certainly look like Banded Mongooses to me!
Where ever you go, go with all your Heart.
Kruger - 22nd May - 5th June 2015
---
Distinguished Virtual Ranger

Posts: 22177
Award: Quiz Whiz of the Year (2013)
Joined: Tue Dec 23, 2008 5:22 am
Location: Midway between the infinite and the infinitesimal!
Banded mongooses. They are often larger than expected (many people think mongooses are rat-sized, which some are), but their bandings and mongoose faces are unmistakable.
---
Thanks guys for confirming the Banded Mongoose.
KNP - Sept 2013 - 5 Days
KNP - Sept 2014 - 7 Days
KNP - April 2015 - 7 Days
KNP - October 2015 - 7 Days
---
I recently posted the following pic in my ongoing travel tale...I think this is a young/female reedbuck but not 100% sure. If anyone can confirm that would be great. Thanks!
International Visitor from the UK
---
Distinguished Virtual Ranger

Award: Quiz Whiz of the Year (2014)
Posts: 6235
Joined: Thu Jan 20, 2011 8:58 am
Location: Far South in South Africa.
BrawlerO, I think in my book, you are correct.


Let's see what the others come up with.
"Lose yourself in Nature and find Peace!" (Ralph Waldo Emerson)
UNITE AGAINST POACHING...What we protect,
do not let poachers take it away!
Extinction is forever and survival is up to---every last one of us!
---
Legendary Virtual Ranger

Posts: 9408
Award: Forumite of the Year & Travel Tale of the Year, Other Parks (2013)
Joined: Sat Feb 18, 2006 10:36 pm
Location: Lausanne (Switzerland)
for me too... female Reedbuck
It is only with the heart that one can see rightly, what is essential is invisible to the eye
Le Petit Prince
planing KTP janv/fev.2016
---
Posts: 318
Joined: Wed May 06, 2015 7:37 am
Location: Pretoria
Confirmed, thats a reedbuck...
"all things wild and wonderful all creatures great and small"
---
Thanks all for your help!
International Visitor from the UK
---
---