---
Distinguished Virtual Ranger

Posts: 14505
Joined: Wed Aug 31, 2005 12:28 am
Location: Pretoria, RSA
Sleeping at Shipandani about a month ago was amongst the best experiences I have ever had in Kruger - and believe me, I have had lots of them!

It is almost like experiencing the Africa of 200 years ago.
The quiet and solitude is magic!
Shipandani is about experiencing the atmosphere of the African night - the animals you see is a bonus!
We saw the Hippo returning from their night out.

And no - we did not see a single mosquito!
But rather be prepared.

Taking a gas stove along is a good idea - to boil some water!

The worst was having to leave so early the next morning!
But what we did was to vacate the hide itself and prepare our breakfast in the braai area.
It is separate from the hide, and you do not bother the early birds (watchers) and they do not bother you.

Imberbe = Combretum imberbe = Leadwood = Hardekool = The spirit of the Wildernis!

Want to know more about the SANParks Honorary Rangers? Visit www.sanparksvolunteers.org
One positive deed is worth more than a thousand critical words.
---
Distinguished Virtual Ranger

Posts: 14505
Joined: Wed Aug 31, 2005 12:28 am
Location: Pretoria, RSA
They do actually still provide you with duvets, also a basket with basic cutlery and battery lanterns.
They also give you a 20 litre water container, which you can fill at Mopani.
You just provide the food, fire wood (please no charcoal - does not fit the scene!) and nature does the rest!
Imberbe = Combretum imberbe = Leadwood = Hardekool = The spirit of the Wildernis!

Want to know more about the SANParks Honorary Rangers? Visit www.sanparksvolunteers.org
One positive deed is worth more than a thousand critical words.
---
Shipandane pics
gate
down to the hide
braai area
the hide
sunrise
The popular argument for destroying rather than protecting snakes is lack of knowledge, and yet there is no valid excuse for this - Austin James Stevens
---
Distinguished Virtual Ranger

Posts: 2130
Joined: Thu Dec 09, 2004 6:51 am
Location: In a very busy place
Okay .. some feedback on Shipandani Hide.
We arrived at Mopani to book in.
Completed the same forms you would complete for a night drive, walk etc.
We had the option for bedding, water cans, lights but chose not to take it so that we could get an early morning start and just have to drop off the keys (big bunch of keys
)
We left and arrived there at 17h30 and the last people left.
Decided to take a drive around and found a leopard less then 3km from the hide.
We came back at 17h50 and unpacked everything.
Your vehicle is left outside but even with hippos chomping around the hide they did not go close to the vehicle.
The main entrance gate of the hide is not locked in the evening but has a very strong spring to keep it closed with a bit of play to let the odd serval or caracal in ..
The toilet is right at the entrance gate away from the sleeping quarters and "lapa" ..
The braai area is locked so no day visitors can enter there.
Upon arriving we found the hide clean and tidy.
Please note it might be good at this stage to tell you that you are not allowed to burn candles or any open flames in the hide except at the designated braai area (the braai)
We decided to make the beds before starting the braai and be warned .. to open the lock is a bit of a mission in some places, especially if you have big hands ..
If the missus or ladies is not afraid of putting their hands in places where spiders might lurk then this should not be a problem.
However, finding the right key for the lock between the 10 keys might not be that easy as they are not in sequence
After having done that you can enjoy watching out the birdhide from the luxury of your bed ..
If you are brave like I am you can leave the hide "shutters" open for the night .. else you have the option to close it ..
Note that these will do nothing to prevent mosquito's etc to come in.
After all that we decided to make the braai and get ready for a night of peace and quiet in the bush ..
It was very cold when we there end of May .. however, I do not think this is the norm .. but I would advise anyone to take some warm clothing with.
We had 3 lights .. one for the braai area and the other 2 for the hide and used the torches to go to the loo when needed.
May I also point out that although the toilet is a porcelain one, that is where the luxury of this toilet ends .. Never judge a book by it's cover
The long-drop is not for the faint hearted and would recommend it only for "emergencies".
There are no basins in the hide, shower or baths so if you don't like roughing it .. I would suggest to use the camps facilities for that .. But where is the fun in that
We "survived" the evening on about 7 litres of water for brushing teeth, making coffee the evening and the following morning, washing the little dishes we had, put out the fire before going to sleep and washing our faces the following morning.
There is a dustbin with a rubbish bag in it so please make us of it as they do come to clean it everyday.
We took mostly paper plates etc to take as little dirty dishes with us .. but we used some water to clean them in any case.
The hide is provided with mattresses and these were quite comfortable .. Bedding can obtained from the camp but you would need to provide a deposit for it .. I think R200 if I'm not mistaken.
The evening was great .. although extremely cold and as such not much animal activity except for the 4 or 5 hippos grazing along the hide.
We brought enough bedding and warm clothes along and were glad we did because it got cold .. very very cold.
There was no mozzies to be found anywhere. In fact it was dead quiet the whole evening. And it was great!
We woke up the following morning .. made a quick coffee, and may I mention that having a gas bottle with stove attachment is great to have for this evening along with your kettle, and packed the car .. we left at 6h00 the morning and saw that it was -3.5 degree Celsius the morning.
When leaving please don't forget to lock everything again .. And I would say switch off the lights, but there is no electricity, so no need for that.
We dropped off the keys and were on our merry way.
Oh BTW .. As for the rodents .. Never saw or heard any .. besides for the few holes in the mattress, it seems to be the only evidence of mice or rodents .. Thou I would not worry about it at all ...
Hope I've shed some light for you ..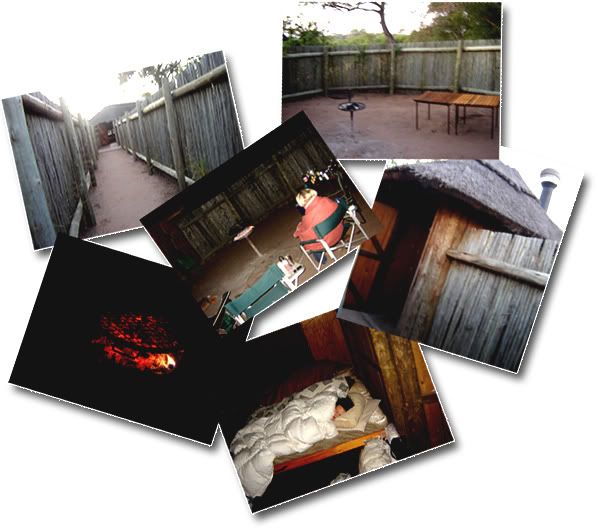 NO TO HOTEL DEVELOPMENT IN KRUGER
---
I promised to give a report back on our night spent in the Shipandani Hide in September, but have not got around to actually posting anything yet, as I am struggling with what to report, to make it interesting!

We thoroughly enjoyed the experience of spending the night in the hide, however, were disappointed that we did not see any action all night… our only visitor was an African Scops Owl, who sat in a tree just outside of the braai area. Having said that, we did drive in the area during the afternoon to see what animals were in the area, but did not see anything, so we had the feeling that we may experience the same during the night.

We would definitely like to stay in a hide again, but next time perhaps try the Sable Hide.

We would also do things differently… we took far too many things with us to the hide, "just in case", which we did not use. We cooked on our own gas skottel, but if we do this again, we will rather take sandwiches, cheese and biscuits, etc., than to "waste" time cooking.

The hide was clean, and there were no creepy crawlies or rodents seen.

We were up early the next morning, and packed up and ready to leave just after 06h00. We went for a morning drive before returning to Mopani to hand in the bedding and lamps they had given us to use. We were rewarded by sighting the rhino "Ore" and spent quite a long time with him.
---
Posts: 20
Joined: Sun Jun 12, 2005 9:01 am
Location: JHB SOUTH AFRICA

Does anyone one know much about this overnight hide?

all i can find on the site is the following info:

"Shipandane Sleepover Hide, situated approximately 3 km south of Mopani on the Tsendze River, is a unique accommodation facility where guests can feel part of the nature. A bird hide by day, it transforms into a primitive overnight dwelling by night, where a select few can experience the Kruger National Park nightlife first hand. Large buffalo herds and many elephant bulls frequent the area meters away from where you are sleeping. This is your chance to experience Africa in its truest form."

Does anyone have any first hand experience of this hide or even better any photos?

When i check on the bookings it says that it is fully booked or under renovation or I'm selecting a period beyond 11 months??????? Is it currently unavailable?????
---
Honorary Virtual Ranger

Posts: 17941
Joined: Fri Jan 14, 2005 5:42 pm
Location: Red sand, why do I keep thinking of red sand?
Arriving currently
: The photos from our trip!
Overhere!
Feel free to use any of these additional letters to correct the spelling of words found in the above post: a-e-t-n-d-i-o-s-m-l-u-y-h-c
---
---
Distinguished Virtual Ranger

Posts: 14505
Joined: Wed Aug 31, 2005 12:28 am
Location: Pretoria, RSA
All I want to add is: DO IT!

It is a unique experience staying overnight in one of the hides!
Imberbe = Combretum imberbe = Leadwood = Hardekool = The spirit of the Wildernis!

Want to know more about the SANParks Honorary Rangers? Visit www.sanparksvolunteers.org
One positive deed is worth more than a thousand critical words.
---
Posts: 20
Joined: Sun Jun 12, 2005 9:01 am
Location: JHB SOUTH AFRICA

I Really want to, but according to the on line booking it is not available any night this year.

it's coming up with an error. however i won't give up that easily im going to phone san parks tomorrow to find out about booking it! i hope its not closed for some reason

After reading all the lovely posts i'm definately going to try stay there!
---
Legendary Virtual Ranger

Posts: 10251
Joined: Sat Aug 11, 2007 7:29 pm
Location: Parklands Cape Town
To find availability I think just give them a call as there seems to be a glitch in the on line booking system.
Went into the hide while staying at Mopani and its really good.
We stayed at the Sable hide for the night of the 21 st Feb and it was full moon..magic! Just the two of us, Ellies in droves went bathing, buffs too ,Impala. and Lion Plenty of roaring . Well worth it.If Shipandani is not available try it. and you get to park the car behind locked gates in the boma .
---
Distinguished Virtual Ranger

Posts: 2005
Joined: Sun Dec 05, 2004 7:01 am
Location: Marloth Park, South Africa
Shipandani is magic!
I also couldn't book it on line so emailed Mopani and they came back to me within 24hrs
Hubby and I stayed there on the 19th March while camping at Tsendze.
Only matresses are provided so you need to take your own bedding, There is a longdrop toilet but no tap so you also need to take water.
Here are a few pics,
The hide from the low water bridge: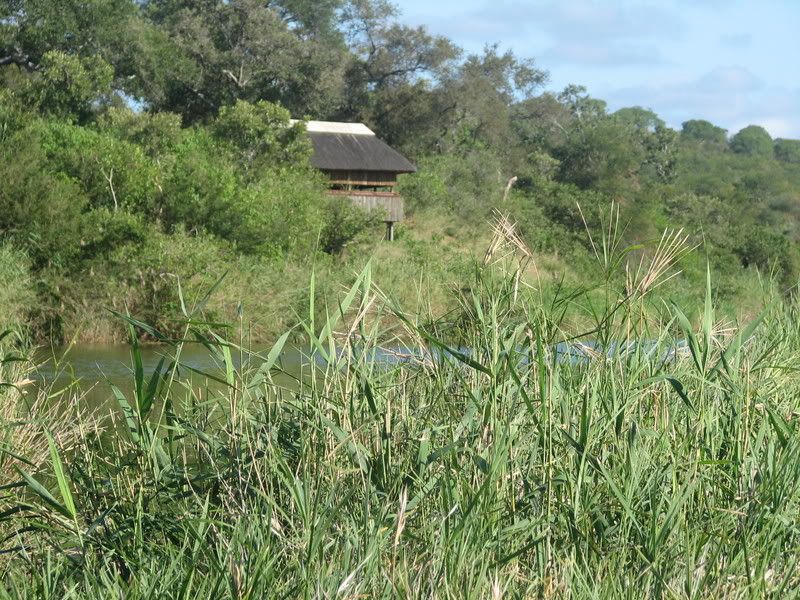 The walkway from the hide, the toilet is on the right at the top, take a torch
:
The braai area:
Inside the hide, the beds drop down from the wall: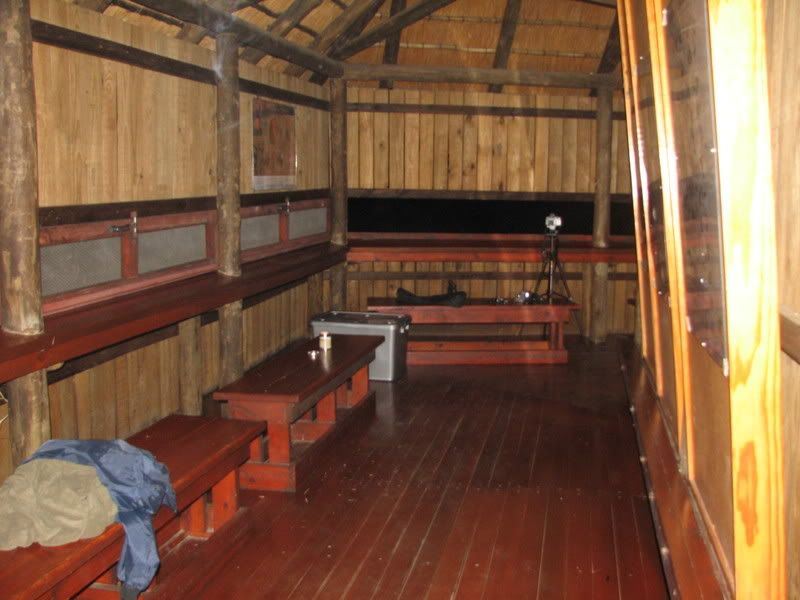 The sunrise you waken up to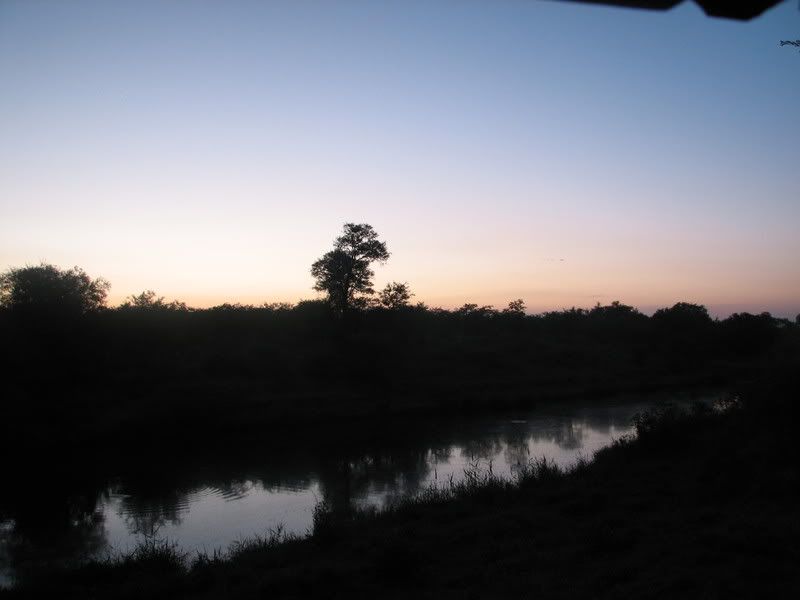 Can't wait to do it again!
---
Senior Virtual Ranger

Posts: 4958
Joined: Mon Dec 11, 2006 1:45 pm
Location: southern gauteng
Lovely place , spent a night there all on my own , I am now spiritually much richer .
KNP is sacred.
I am opposed to the modernisation of Kruger and from the depths of my soul long for the Kruger of yesteryear!
1000+km on foot in KNP incl 56 wild trails.200+ nights in the wilderness
ndloti
-indigenous name for
serval
.
---
I am not 100 % sure, but I think it is possible to arrange for bedding, a "bed roll" at a prescribed tariff at Mopanie before going to Shipandanie. After the night in the hide, it is your responsibility to hand in the "bed roll" at Mopanie's receiption. It is a pity that one is only allowed a one night's stay in the hide at a time.
---
---