Moderator: hilda
---
Junior Virtual Ranger

Posts: 538
Joined: Sun Sep 04, 2005 3:04 pm
Location: Nottinghamshire UK
Saw them a few times in February. This one was near Punda (and refused to turn around!).
Richard
http://www.pbase.com/richardharris/february_2007&page=1
more photos / larger versions here
---
---
Legendary Virtual Ranger

Posts: 9922
Joined: Wed Mar 16, 2005 12:38 pm
Location: In the shadow of Table Mountain
At the far end of the S100, you turn right towards Nwanetsi - I forget the road number. After a while you ford a stream that usually always has water. On the far bank there is a loopie to the right that gives a 25 metre river view. That is where we have seen our only Kruger LBE.
Whatever (according to BB): "You are correct but I don't want to admit it".
---
Legendary Virtual Ranger

Posts: 5470
Joined: Thu Dec 02, 2004 10:27 am
Location: Chasing down the rarities
Have seen LBE mainly in the Pkop area and on the Sweni Wilderness trail. But they occur through out Kruger.
---
Legendary Virtual Ranger

Posts: 2604
Joined: Wed Sep 06, 2006 3:33 pm
Location: Jam Street
Another digiscoping "success" - because LBEs like to use the same perch to 'hunt' from, they are ideal subjects for the digiscoper.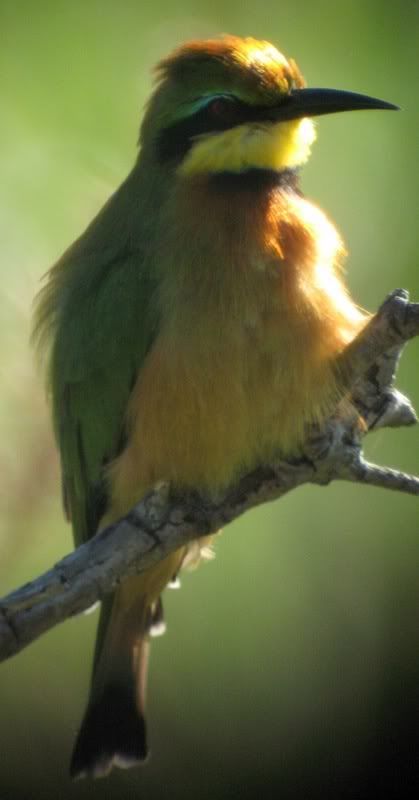 671 Latest lifer: Black coucal
---
Legendary Virtual Ranger

Posts: 2604
Joined: Wed Sep 06, 2006 3:33 pm
Location: Jam Street
The
Little Bee-eater
,
Merops pusillus
, ranks among the most enchanting birds anywhere. They possess startling grace and beauty that they display while they pursue all types of flying insects. Honeybees are the main prey in their diet but also flying ants, butterflies, bees and wasps that are caught on the wing are brought back to the perch where they are made harmless by violently pounding and rubbing the insect on the perch and eaten. In general bee-eaters are programmed to only catch things on the wing. Once an insect lands the bee-eater ignores it, even if it sits in plain sight.
Large view
Watching these bold and energetic birds is hugely entertaining and because many species are quite relaxed in the presence of man, photographic opportunities come readily. This, the smallest member of the family, occurs in open woodland and forest edge, very often in proximity to water. Pairs and small groups excavate their breeding burrows in sand gullies, termite mounds and sometimes on road verges. The Little Bee-eater characteristically perches low down - often just centimetres from the ground - and sallies upwards to capture its prey. At night and in cool weather, groups huddle together for warmth - as many as fifteen abreast on a single stem.
Unlike other bee-eaters the Little Bee-eater does not migrate and makes only short local movements in response to the rainy and dry seasons.
671 Latest lifer: Black coucal
---
Moderator

Posts: 12540
Joined: Tue Mar 22, 2005 6:31 pm
Location: Ballito, KZN North Coast, South Africa
Seen in Kruger in Feb this year.
Large View
Where ever you go, go with all your Heart.
Kruger - 22nd May - 5th June 2015
---
saw them in lower sabie by the tented camps
Avid birder, wildlife enthusiast and photographer with a special interest in Bats
2014 Birding Big Year- A 365 Day quest for 800 Species of Southern African Birds
Stiffnecks Member
---
Little Bee-eater chasing insects.
Barcud
---
---
Return to "Birding in Southern Africa"