Junior Virtual Ranger

Posts: 375
Joined: Wed Jun 11, 2008 12:31 pm
Location: Langebaan
Smuts GL. 1978. Interrelations Between Predators, Prey, and Their Environment. BioScience
28(5):316-20.

Even though this book was published way back in 1978 (and re-printed in 1983), the research information in the book is very much current. The management of large predators still remains a controversial and highly emotional issue all over the world. This can largely be ascribed to a lack of knowledge of the basic factors influencing predators and prey populations. Since about 1903, predator control - principally that of the larger carnivores such as lions, leopards, cheetahs, wild dogs, spotted hyenas, and crocodiles - was routinely practiced in Kruger National Park. The possible influence of large predators on prey populations became a controversial issue, when wildebeest and zebra populations started declining in the Central District of Kruger Park. Although it was realized that these declines were linked to cropping operations, the drought, and marked habitat changes, there was some evidence that large predators, principally the lion, were the proximate cause of the declines.

Although a scientific publication, the book was written in a relaxed format, sharing many tales about lion counting projects etc. - almost like a giant trip report. It has certainly given me a better understanding of man's influence in our Parks. Well worth reading!
In love with God's creation
---
Distinguished Virtual Ranger

Posts: 8460
Joined: Mon Nov 30, 2009 9:21 am
Location: SA
WeskusKlong this sounds like a very interesting book to read. Thanks for recommending it
"Whether it's the best of times or the worst of times, it's the only time we've got."
---
Senior Virtual Ranger

Posts: 4958
Joined: Mon Dec 11, 2006 1:45 pm
Location: southern gauteng
KNP is sacred.
I am opposed to the modernisation of Kruger and from the depths of my soul long for the Kruger of yesteryear!
1000+km on foot in KNP incl 56 wild trails.200+ nights in the wilderness
ndloti
-indigenous name for
serval
.
---
Distinguished Virtual Ranger

Posts: 4744
Joined: Tue Jan 26, 2010 7:02 pm
Location: Bellville, Cape Town
Being a Kruger and Game Ranger book collector, I stumbled across this book which will be my night time reading while counting the day to next Kruger trip in Dec'15.
LION - written by G.L Smuts, a researcher in Kruger from 1970 to 1978
He published this book based on his research
ISBN 0 86954 122 6
Version: reprinted 1983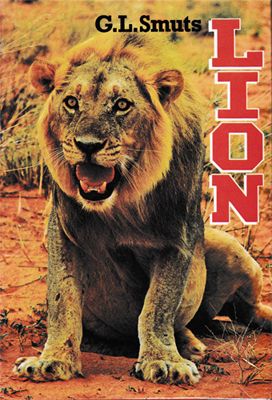 I will let you know how I have enjoyed this book.
Current - Table Mountain's mood today
Future - Dec'15: Mokala (7th), Kruger (10-24th), Golden Gate (25th) & Karoo (26th)
Finished - Bontebok NP 23-25 Sep'15, Agulhas NP Jul'15; West Coast NP Aug'15, Kruger Dec'14
---
---
Who is online
Users browsing this forum: No registered users and 1 guest