Moderator: hilda
Posts: 176
Joined: Wed Jul 23, 2008 8:50 pm
Location: JHB, Gauteng
@ Mgoddard
Thanks for the location.
That Juve Crowned Eagle is really stunning, one bird I'd love to see in Kruger.
Have fun growing that list
---
Posts: 67
Joined: Wed Apr 06, 2011 10:02 am
Lizet Grobbelaar wrote:Mgoddard,

2-

imm Crowned
Of course, you should all be believing Lizet!
After all, she has the id's 100% correct (not that there was ever any doubt about that...!).
For what it's worth, I'll stick my votes together with Lizet's on all of the above id's.
Trevor Hardaker

Last SA lifer: Red-throated Pipit - 10 Jan '15 - Avis Dam, Windhoek
Last World lifer: Black Bush Robin - 26 Mar '15 - Yotvata, Israel

My wildlife pics and reports: www.hardaker.co.za
---
Virtual Ranger

Posts: 614
Joined: Mon May 04, 2009 3:23 pm
Location: Pretoria
Trevor, thanks for the confirmation
---
Moderator

Posts: 12621
Joined: Tue Mar 22, 2005 6:31 pm
Location: Ballito, KZN North Coast, South Africa
We were lucky enough to spot this Crowned Eagle in Kruger between Lower Sabie and Skukuza in June this year, a lifer for us.
Large
Large
Where ever you go, go with all your Heart.
Kruger - 22nd May - 5th June 2015
---
Lucky you!
Top of my wishlist for many visits to Kruger but could not find one yet.
---
Posts: 86
Joined: Sun Jul 15, 2012 9:21 pm
Location: Pretoria
Last one for today. Both photographed in Ithala NP, KZN, August 2011.
First one probably to far (bad quality) for positive ID, but I can't even seem to settle on a family?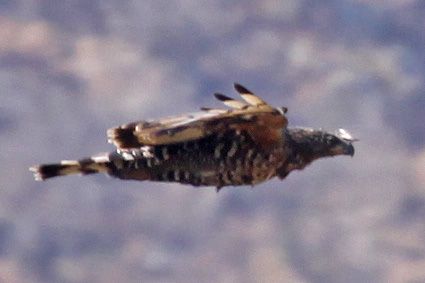 All the best, Michael
---
The heavily barred underparts, big robust frame and head and the place where you saw it.. Crowned Eagle. Great sighting that!!
---
Legendary Virtual Ranger

Posts: 2608
Joined: Wed Sep 06, 2006 3:33 pm
Location: Jam Street
Not so bad... Crowned eagle
671 Latest lifer: Black coucal
---
Posts: 86
Joined: Sun Jul 15, 2012 9:21 pm
Location: Pretoria
Thanks again DD and Johan
---
---
Return to "Birding in Southern Africa"