Forum Assistant

Posts: 12983
Joined: Tue Oct 06, 2009 5:03 pm
Location: Upington RSA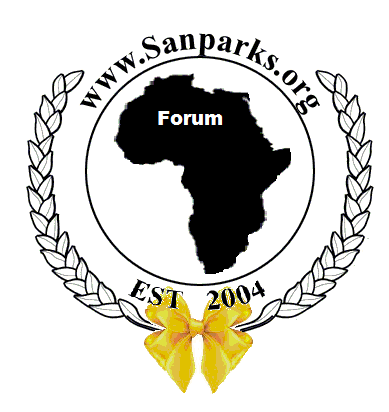 ---
Forum Assistant

Posts: 12983
Joined: Tue Oct 06, 2009 5:03 pm
Location: Upington RSA
Hi all,
You need to remember I'm just the admin person.
All designs will stay anonymous........
---
Senior Virtual Ranger

Posts: 4112
Joined: Fri Mar 02, 2012 11:08 am
Location: In a park or on the forum.
Nice idea.
---
Distinguished Virtual Ranger

Award: Sighting of the Year - Small creatures/insects (2014)
Posts: 4317
Award: Travel Tale of the Year for KNP (2013)
Joined: Wed Sep 22, 2010 11:37 pm
Location: Pretoria
2015
10 July Letaba
11 July Satara
12-14 July Lower Sabie
15-18 July Tsendze

24-27 September Lower Sabie

11-20 Dec Satara
14 Dec Sable Hide
21-27 Dec Lower Sabie
28-31 Dec Satara
1 Jan Croc Bridge
2-4 Jan Satara
5-8 Jan Lower Sabie
---
Junior Virtual Ranger

Posts: 38
Joined: Sun Oct 23, 2011 9:48 am
Location: Durban, hoping for relocation to Kruger
This Logo looks Very Good. Simple, good information. Shows the world as the circle (i assume) and our country. Can be easy to print on anything as well.
---
Distinguished Virtual Ranger

Posts: 17202
Joined: Thu Jan 13, 2005 9:02 pm
Location: mind in SA, body in The Netherlands
Nice
its universal (as the forum) and has the famous ribbon
---
Senior Virtual Ranger

Posts: 19663
Joined: Fri Feb 17, 2006 9:09 pm
Location: another national park.. in England
Really special and says it all
KUDU's mean Well done and Thank you
---
Not sure about the corn border (a bit UN ish?) but love the rest. Could the border possibly be changed to a yellow ribbon?
Want to say
Thank You
or
Well Done
to a fellow 'mite? Why not nominate them for a
Kudu
?
---
Forum Assistant

Posts: 12983
Joined: Tue Oct 06, 2009 5:03 pm
Location: Upington RSA
---
---
---