Freda's at it again!
her sms wrote:Had a lekker skottel brekkie with arks, Jumbo and Bosveldkoning this morning. Will meet up again at LS tomorrow and hope to find Graemy too. Drinks at safari tent 20 from 6, all forumites welcome.

Just happy to be here really. Was a leopard kill on the Matjula loop, I missed it as usual. Ellies, ellies and more ellies with a sprinkling of rhino and giraffe and oversexed impies.
---
---
Distinguished Virtual Ranger

Posts: 2005
Joined: Sun Dec 05, 2004 7:01 am
Location: Marloth Park, South Africa
katja wrote:Great cheetah and puffy pics! Thanks for posting, Freda.

Where did you see the cheetahs?
On the H3 just after the S113 turnoff on the way to Skukuza.
They crossed the road between vehicles but I could still see them in the bush, (need a bigger lens
)
Also had leopard on the Spielberg loop
---
Distinguished Virtual Ranger

Posts: 2005
Joined: Sun Dec 05, 2004 7:01 am
Location: Marloth Park, South Africa
---
Distinguished Virtual Ranger

Posts: 2005
Joined: Sun Dec 05, 2004 7:01 am
Location: Marloth Park, South Africa
katja wrote:

Freda wrote:Also had leopard on the Spielberg loop

Great!

Where is Spielberg loop?

Can't find it on my map...
A continuation of the Matjula loop, S120, near Berg-en-dal.
I was also told (by a jeep jockey
) that there was a leopard kill on Matjula loop last Friday, S110 near where it joins the H3, but I couldn't see any signs of it
Sorry it is called Steilberg not Speilberg.
---
Distinguished Virtual Ranger

Posts: 2005
Joined: Sun Dec 05, 2004 7:01 am
Location: Marloth Park, South Africa
I decided it was about time I made the effort and did a report, so here goes: sigh
On the 5th May I left home at 5.30am as Macho Mouse couldn't come with me because she had other commitments
I arrived at Malelane gate at 12.00 after wasting an hour in Nelspruit being passed from queque to queque trying to discuss a couple of fines, should have rather spent the time in the park
I was only a day visitor as I was staying with Jumbo in Marlothpark and took a long cut through the park instead of using the highway. Jumbo phoned to say she was held up at the border so didn't expect to be in Marloth till about 5pm.
A jeep jockey stopped me and told me about a leopard kill on the Matjula loop, I drove part of the loop but didn't find a thing, perhaps he saw the yellow ribbon and was getting his own back
Impalas were everywhere and as it is rutting season they are very noisy and likely to dart in the road without warning. I saw warthog,
whitecrowned shrikes, a juvenile marabou, two young waterbuck, giraffe, turtles, crested francolins with babies and a big herd of ellies that were on both sides of the road.
When I got to the end of the S25 I still had time to visit Gezantfombi Dam before leaving the park, lots of whitefaced ducks, crocs, hippos and impalas and a very noisy lady with her combi door open. She shrieked excitedly every time an impala went close to a croc.
Time to leave the park and join Jumbo and Bosveldkoning for a lekker braai in Marloth. What a pleasure it is to sit on her stoop in the evening with a fire going and look at all the stars. Even quieter than some nights in Kruger.
Only spent about 4hrs in the park but I had seen so much already
---
Distinguished Virtual Ranger

Posts: 2005
Joined: Sun Dec 05, 2004 7:01 am
Location: Marloth Park, South Africa
Up at about 5.30am on the 6th, a quick coffee with Jumbo and off to Croc Bridge I went, we had arranged to meet Arks at Afsaal for a skottel brekkie at 10.
I decided to take the H5, usually a good road for me but today nothing
I probably missed lots as it can be difficult spotting on your own, wonder how many cats I missed?
Took the S102 past Mpondo Dam and realized I didn't have a lot of time left to make the brekkie at 10 so I started going at about 30kph and the animals started appearing
warthogs, giraffes, ellies, kudu, I finally arrived at Afsaal at 10.10 after doing the last stetch on the H3 at 50kpm.
Guess what, Arks was also a bit late and arrived about 5 minutes after me
We were treated to a fantastic champagne skottel brekkie cooked by Bosveldkoning and we chatted away like long lost friends.
Left the great company about 12.30 and I headed towards Berg-en-dal, Arks to Biyamiti and Jumbo and BVK to Malelane gate. Arks had not seen rhino and just after we left Afsaal, guess what, we found 2 rhino just before Renosterpan. I took the S118, then S119 calling at the Gardenia hide. I saw wildebeest, zebras, warthogs, impalas and more ellies on the way.
I quickly left the ellies as they had young ones and they were on both sides of the road again only to find another lone ellie taking a mudbath.
A brown snake eagle landed in the riverbed to take a drink and there were lots of those lovely red dragonflies
I arrived at Berg-en-dal and started to unpack, within seconds I had vervets trying to help me, couldn't leave the car or bungalow door open but they soon realized I had nothing for them and went to help some other new arrivals
I relaxed on the stoop, planning my route for the following day, my Lowvelder newspaper and Kruger Times were on the table as I was hoping to read them later. I lit a fire for the ambience and went in the bungalow to start the tuna pasta I had decided to have for supper. I came out about 10 minutes later to find it had rained but only about a meter wide stretch all over my table.
My map and papers were wet through but my fire was burning brightly, funny things happen in Kruger
I had my supper, a couple of cold castles, an Amarula nightcap, watched the stars and listened to the nightjars, a perfect end to a perfect day
---
Distinguished Virtual Ranger

Posts: 2005
Joined: Sun Dec 05, 2004 7:01 am
Location: Marloth Park, South Africa
Up early again on the 7th, got the caffeine and nicotine levels up, packed the car and took the Matjula loop just before 7am, turned on to the S120, Steilberg, and saw a few cars stopped, a leopard had crossed the road and was lying under a bush, what a start to the day!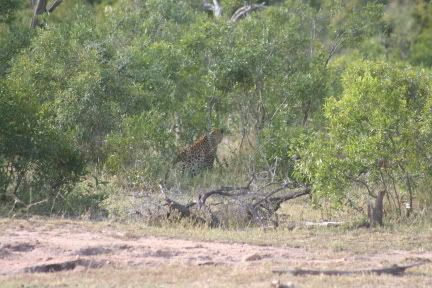 I stayed for a while but people were hanging out of their cars so I thought it best to leave before I was tempted to say something and spoil my day.
I saw beautiful kudu and more noisy impalas before I joined the H3. I saw the creeper that has been mentioned on the forum and as Stephen has said on the Biyamiti thread it is now dying off.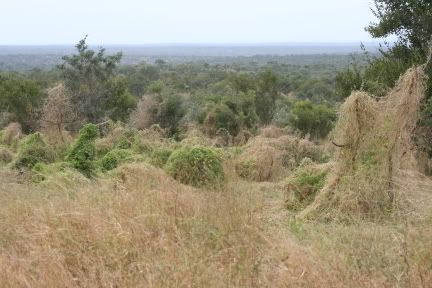 Came across ground hornbill which walked past my car then pecked the silver metallic car behind me, the driver was not impressed but I thought it was funny, I'm sure it could see it's reflection.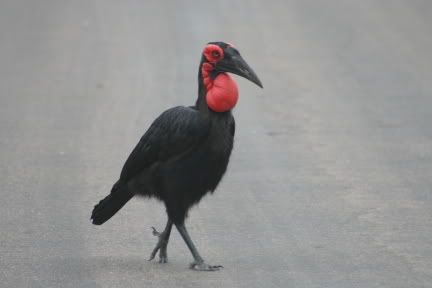 A quick stop at Afsaal where the young man in the shop told me that a hyaena had taken an impala on the 1st tee at Skukuza golf course and a leopard had been seen on the koppie just up the H3.
Back to the H3 but no leopard instead 3 cheetah were crossing the road between the cars and more people were hanging out of their vehicles. I love seeing cheetah unfortunately it wasn't too good for nice pics.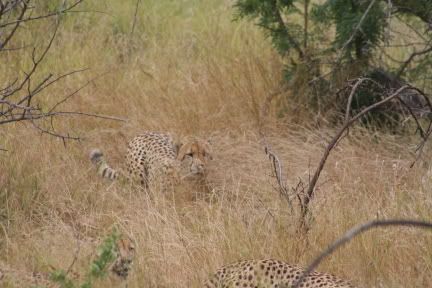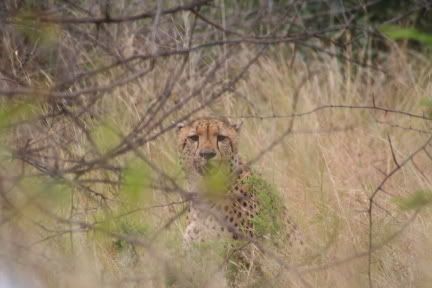 I moved on and had to park across the road and cause a traffic jam in order to let a chameleon safely cross the road.
My next sighting was a giraffe lying down,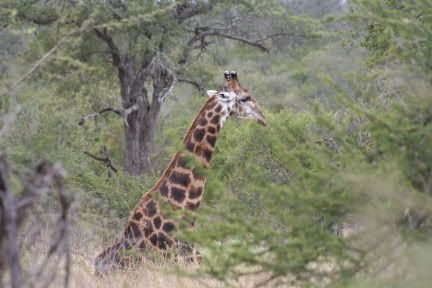 all this and I had only been in the park for 2 days.
---
Distinguished Virtual Ranger

Posts: 2005
Joined: Sun Dec 05, 2004 7:01 am
Location: Marloth Park, South Africa
Took the S21, N'watimhiri Road, heading for Lower Sabie and a braai with Arks. Saw dwarf mongoose, lots of redbilled hornbills,
warthogs, crowned lapwings (cut the feet off to give myself a chance on the quizz
)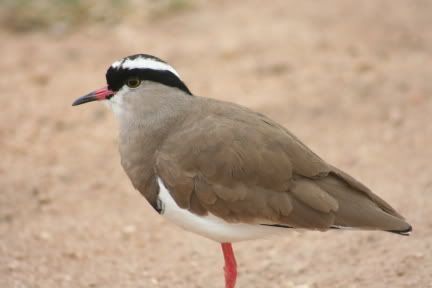 kudu, more noisy impalas, pretty little white, yellow and pink flowers and wild hibiscus, turtles and a puff adder.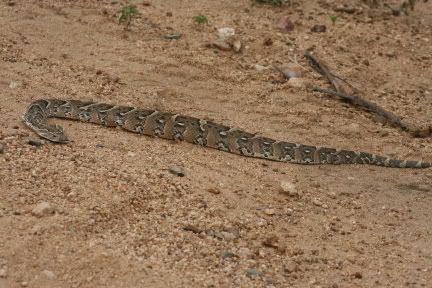 Down the H4-1, dagga boy
hippos out of the water, grey heron, blacksmith lapwing, pied wagtail.
Quick stop at Sunset Dam and checked in at Lower Sabie, prepared things for tonights braai, still only 3.00pm, time for a trip to Mlondozi Dam.
Lilac breasted roller,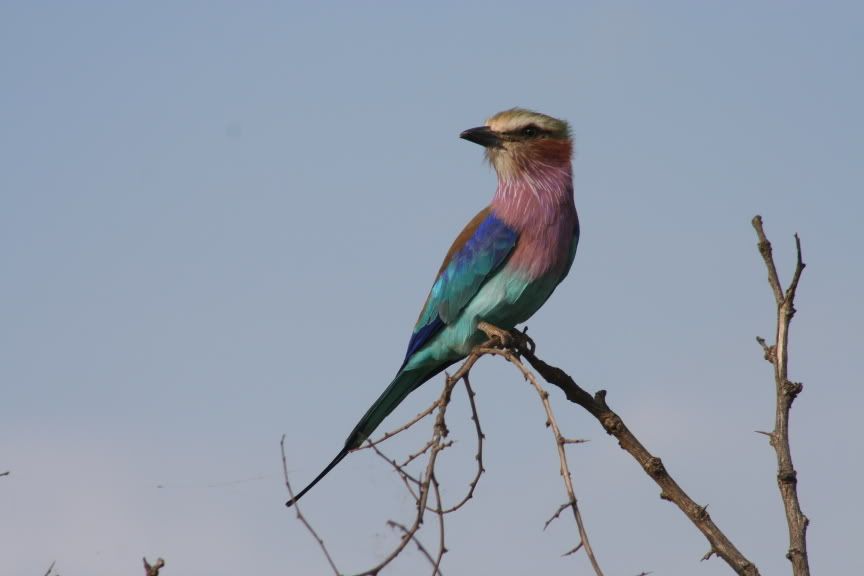 helmeted guineafowl, greybilled hornbill and these ? on the way, Shelleys francolin perhaps, please ID for me.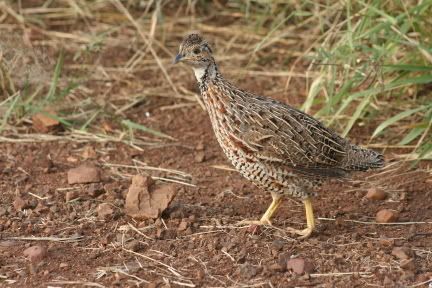 All quiet at the dam and made my way back, lovely Goliath Heron at the bridge at Lower Sabie and a visitor out of his car taking a pic of it.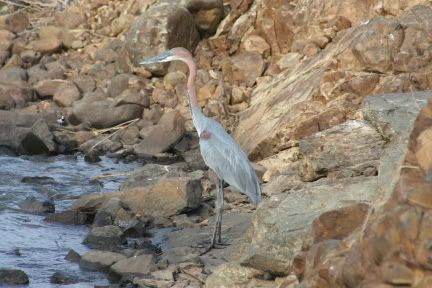 Got very cross when I took a pic of him, the visitor not the heron
Then I spotted a yellow ribbon, it was Graemy and SO, it was now 4.30 and we arranged to have drinks on the deck at 5.30
Saw a kudu with a young one just as I left the bridge.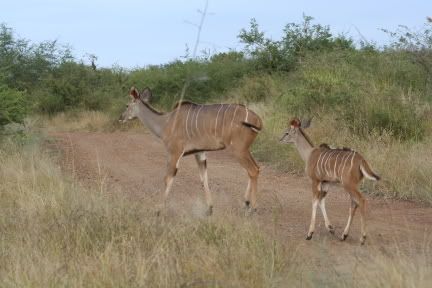 Back to camp, found Arks, told her about our date, lit the braai at 5.15 and went for drinks.
What a great time we had, all ended up back at Arks bungalow having a braai together and the party ended about 11pm.
---
Distinguished Virtual Ranger

Posts: 2005
Joined: Sun Dec 05, 2004 7:01 am
Location: Marloth Park, South Africa
May 8th and I have to go home, woke up to the naughty baboons jumping over the fence and stealing next doors bread.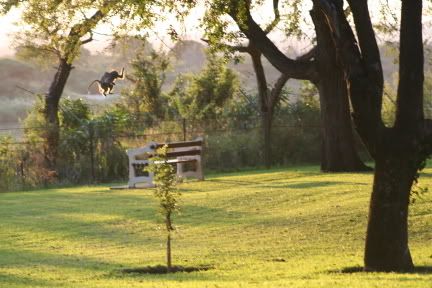 Packed up and headed up to the S21 but had to take a last stop at Sunset Dam.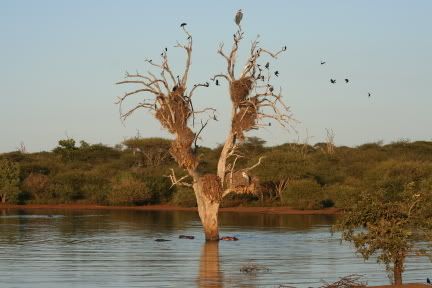 On the S21 saw burchells coucal, whitebacked vultures, jacana and as I turned on the S114 four rhino on the side of the road, this one playing with a log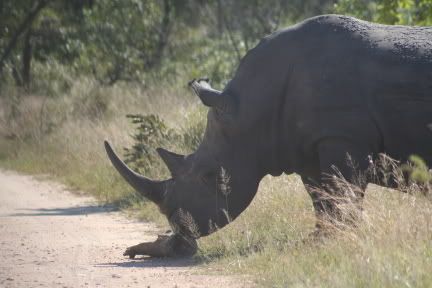 More ground hornbill with a young one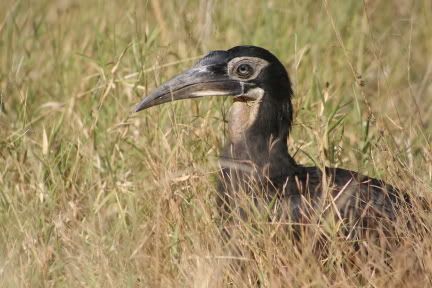 and at Biyamiti wier, pied kigfisher, giant fisher and hammerkop. I then headed for the H3, time just flies here and I had a 5hr drive ahead.
Came across this bit of impala in the road but couldn't find the rest,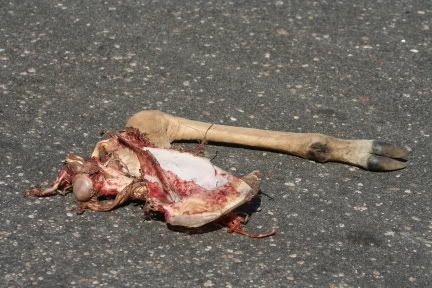 took a ride down to Renosterpan and more rhino in the road.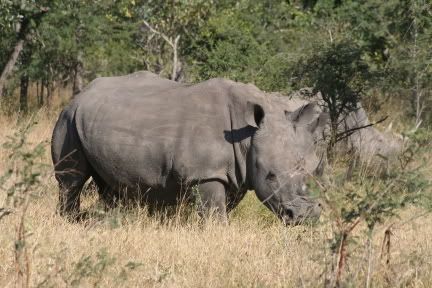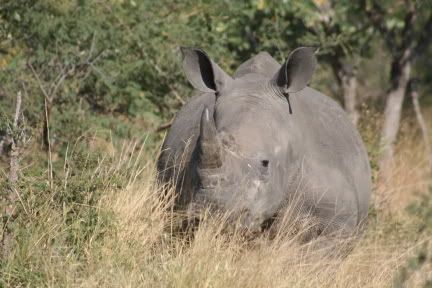 Wildebeest and zebras at the dam.
As I headed for the gate I saw an ellie mum and baby about to cross the road, managed to get past and take this bad pic through the rear window.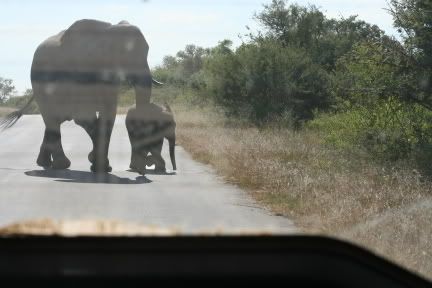 I was very sad to leave the park as always but it was a great weekend and I met some wonderful forum people, thank you Jumbo, BVK, Arks, Graeme and Sonya.
---
---
---