Moderator: lion queen
I am not going to bore you with a blow by blow type of report back but just try to high light the involvement of the virtual region of the honorary rangers in this years event.
Cricket 2011 will stand out as an important mile stone, not only was this the 5 th anniversary but it was the first year that the event was planned and held as a full honorary ranger project. Last years event was handled by the mods and forum members and the virtual region was only established on 1 February 2010 when most of the planing had been done.
Hosting an event like this takes a lot of planing and organisation and getting all the logistics in place is a major task. Planning started in Oct. 2010 in all earnest and included topics such as the games, sponsors and liaising with SANParks. The addition of the KTP team had its own specific needs and logistics and had to be included as well. In the end everything came together and the event was a huge success.
Friday saw the customary golf game and some of the warm up cricket matches while the in the evening the braai was held and issuing of name tags was done. Thanks to Boorgatspook, the tags was great as usual.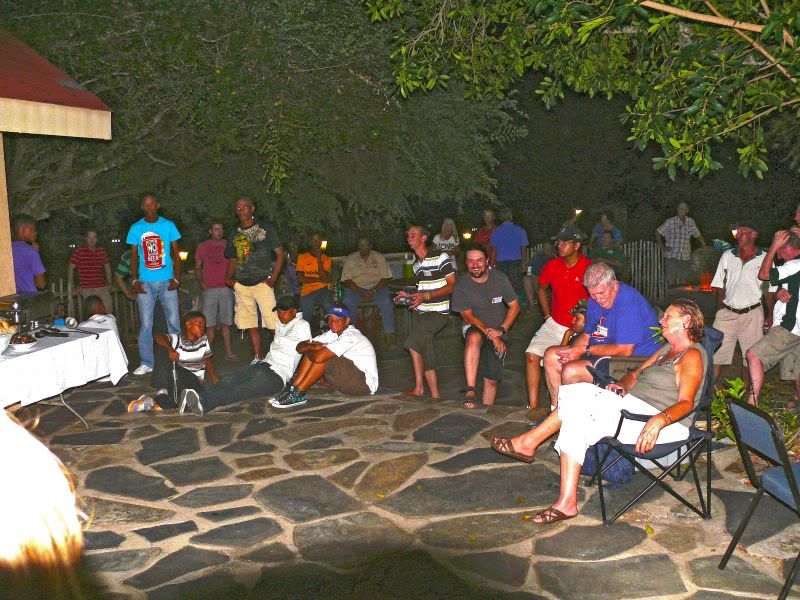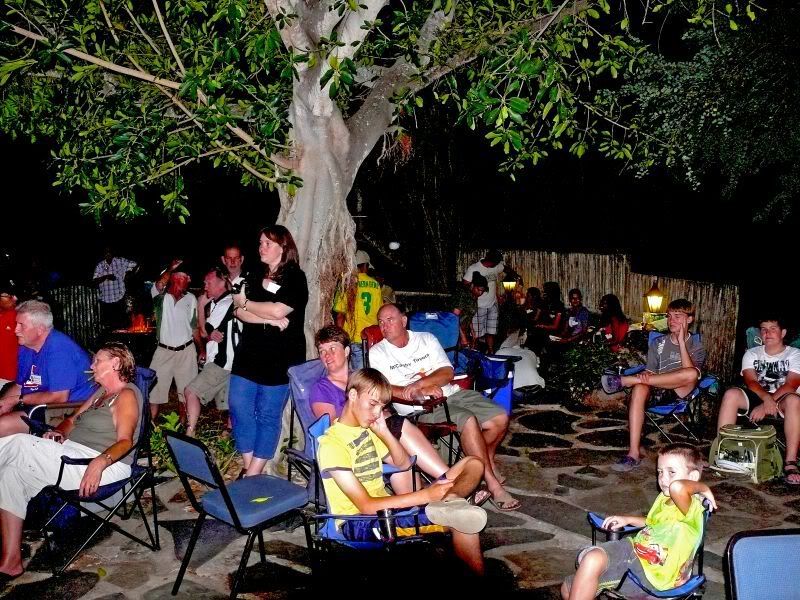 Saturday was cricket, cricket and more cricket during the day with the Silent Auction running in the background. The table was well stocked and there were some great items on offer, a great big and sincere thank you to all the folks and businesses who donated so generously, without you this could not happen.
The VHRs were instrumental in obtaining sponsorship for the KTP team's accommodation and cricket gear as well as something to eat and some spending money, thanks to the folks who made that possible.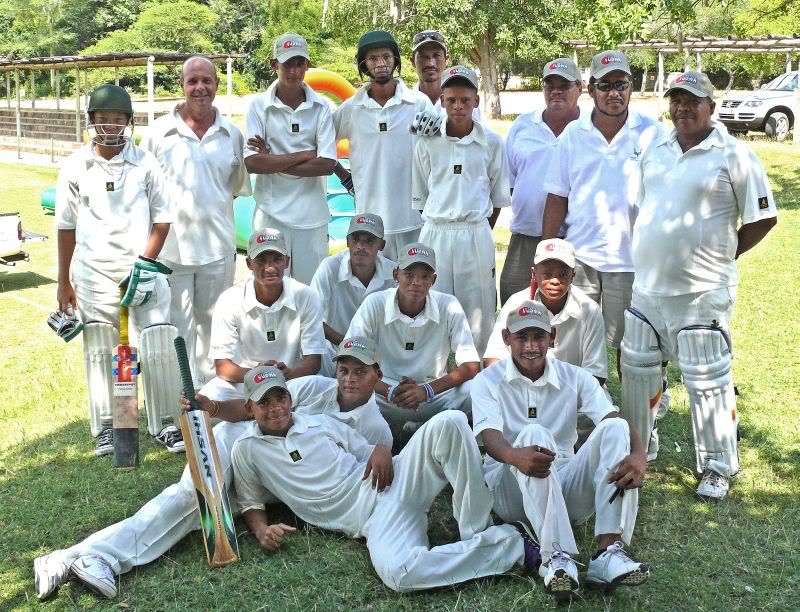 The final event was the dinner hosted By SANParks in their new conference center and I must commend them on a perfect setting, the venue is one that is worthy of any major event and an asset in the SANParks inventory. Catering and presentation was top class and our sincere thanks to SANParks for their addition to the weekend.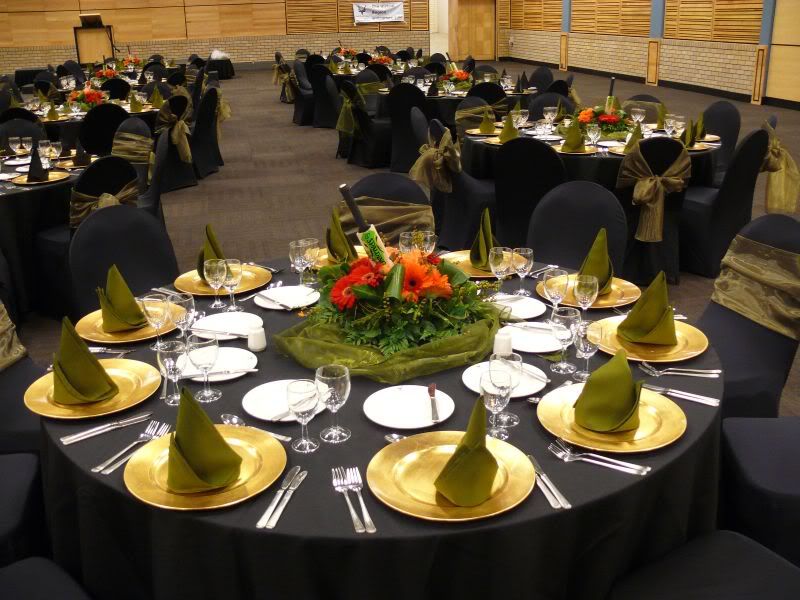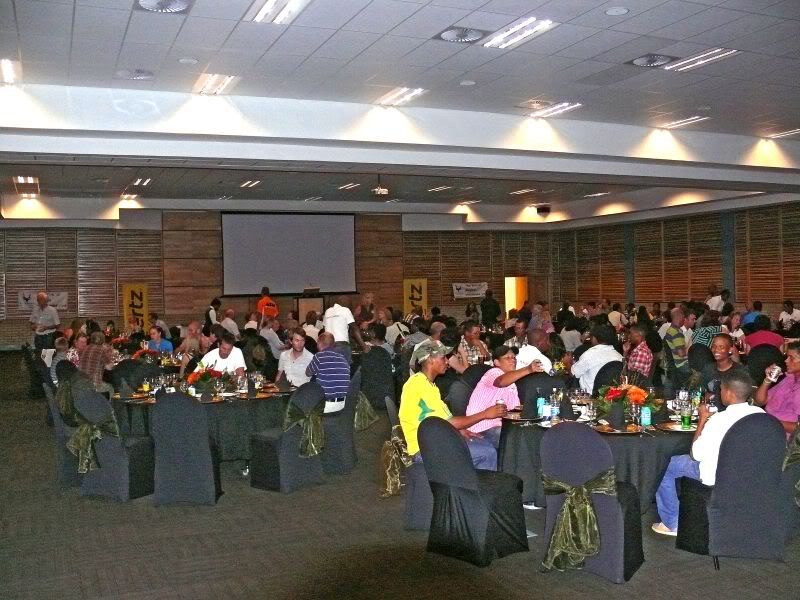 The evening was not only speeches and thanks but there was a fair bit of fun and entertainment as well. The KTP team did a dance for us and the orange angels popped out to do their bit to add to the fun.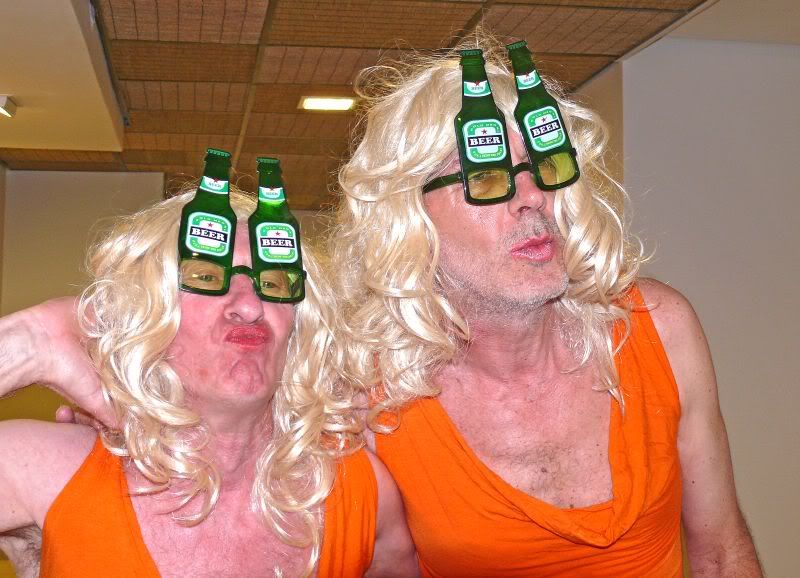 One of the evenings important tasks was the hand over of two donations to the relevant SANParks authorities
One was a parcel containing flash drives and memory cards donated by RUMURUTI to Lucy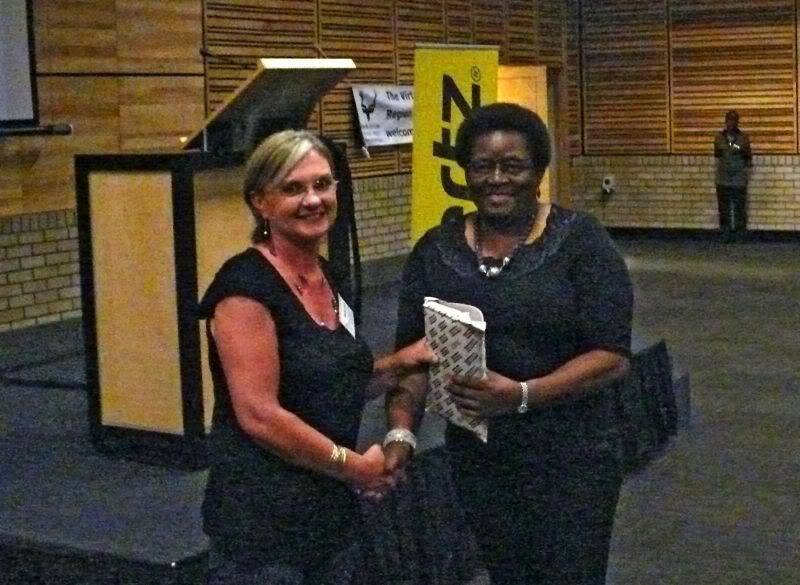 The second was two torches donated by RiaanH to Frikkie of the anti poaching team.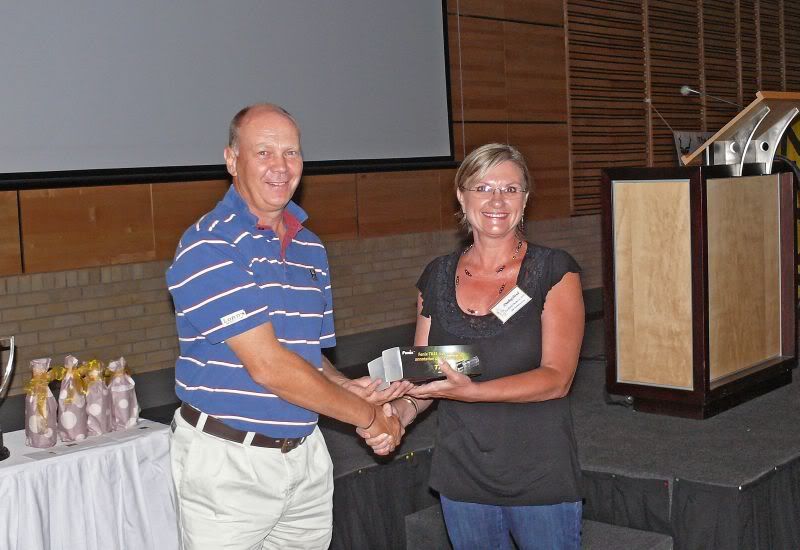 A new trophy was donated in memory of one of the cricket stalwarts who sadly passed away. The Bigman trophy is for the forum player of the weekend and is voted by the Skukuza team this year it went to Bigman's son
Last on the agenda was a surprise lucky draw for a raffle for the folks who supported the silent auction, three smaller prizes were drawn and the big prize went to Dave.
Once again a big thank you to every one who made this year's cricket a success and especially to the folks who travelled to attend.
Adventure is out there. Go find it
---
Thanks for the summary sparks!! Looks like a great time was has by all
:
[ Post made via Mobile Device ]
---
Great pictures there Sparks, especially the first and last ones
A lot of effort was put in by a lot of people. Thanks to everyone.
Long live
Cricket@Skukuza
Si thi
Ready for the next Cricket Weekend!
---
Senior Virtual Ranger

Posts: 2080
Joined: Tue May 09, 2006 10:13 pm
Location: Slightly Off Center
Contact:
Thanks Sparks
even with slightly protracted speaches it was an awesome event. Charl (Bigman's son) deserved that trophy out and out. What an awesome player. He was very emotional.
The whole weekend simply rocked. . Thanks guys.
You gotta be careful: don't say a word to nobody about nothing anytime ever!
I don't pretend to be captain weird. I just do what I do.
---
Legendary Virtual Ranger

Posts: 5315
Joined: Fri Jan 28, 2005 4:43 pm
Location: Back to Reality
Great summary Sparks,
Especially for those who could not make it
---
Junior Virtual Ranger

Posts: 418
Joined: Fri Oct 16, 2009 10:56 am
Location: Erasmuskloof, Pretoria
Thank you Sparks for the excellent summary of the weekend, and also thank you to Sanparks and everybody who worked so hard to make this a success! We really enjoyed the weekend and will be back next year (and my daughter will still be part of the Angels team).
---
Thank you Sparks for the post and thanks to everybody who made the weekend possible. It was great.

See you again next year.
Fishbowl(Charl Joubert)
May the wind be always at your back. May the sun shine warm upon your face.
---
Distinguished Virtual Ranger

Posts: 5008
Joined: Sun Apr 29, 2007 1:12 pm
Location: New Brunswick, Canada
Contact:
Thanks Sparks for the synopsis and the great pics!!!
Look like a HUGE success!!!
Appreciate what you have before it becomes what you had.
---
Senior Virtual Ranger

Posts: 1230
Joined: Sun Jul 22, 2007 6:10 pm
Location: New Brunswick, Canada
great summary of an awesome event!
and thanks Sparks for all of your hard work as well!
---
Senior Virtual Ranger

Posts: 2080
Joined: Tue May 09, 2006 10:13 pm
Location: Slightly Off Center
Contact:
Good Morning folks. I have recieved word that someone from the forum left a samsung camera at the Nkulu picnic spot. It has team photos of the kgalagadi guys on it.
If it's your please p me so I can tell you where you can get it
Sorry if I post this in two forums but I gues it's important to someone. Just wana make sure it's seen
You gotta be careful: don't say a word to nobody about nothing anytime ever!
I don't pretend to be captain weird. I just do what I do.
---
---
Return to "SANParks VHR Wild Projects"