Distinguished Virtual Ranger

Posts: 530
Joined: Thu May 26, 2005 12:00 pm
Location: At work longing for the outdoors!
Acraea neobule neobule
Wandering donkey acraea (eng), Dwaalesel-rooitjie (afr)
---
Junior Virtual Ranger

Posts: 286
Joined: Wed Apr 05, 2006 6:59 am
Hi
I'm glad to see that I have a "maatjie" frend looking at smaller things like "butterfly's and insects. Your photo's are excellent.
I have tried to take pictures of butterfly's, I have one problem. They do not want to sit still and open their wings when you have your camera with you. You have to be very pasient with them.
Can you ID these butterfly's
It looks as if you can see through the tips of this fellow.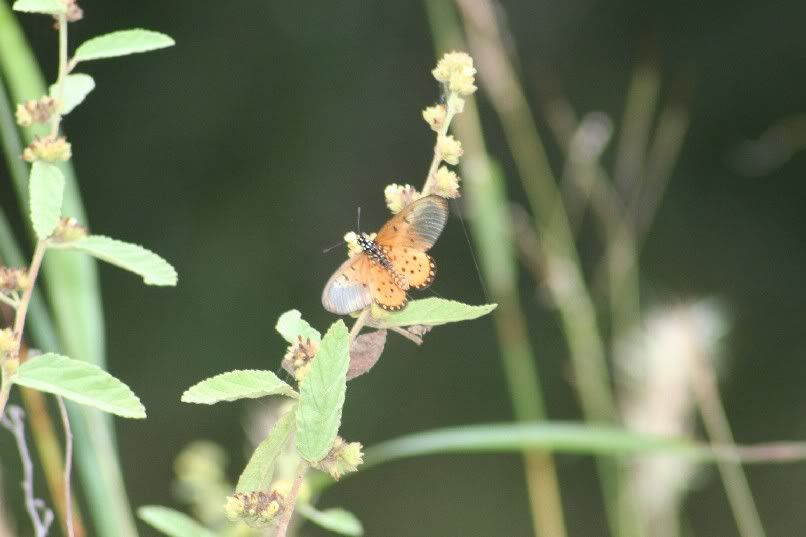 I could take thee photo's of one sitting on a flower.
---
Posts: 117
Joined: Wed Oct 15, 2008 6:42 pm
Location: Waar die enigste slang 'n tuinslang is...Joburg
The first one is a wandering donkey acraea (Acraea neobule), and the second is also a pale ranger (Kedestes callicles).
"If you can only visit two continents in your lifetime, visit Africa.... TWICE" - R.Elliot
---
---
Return to "Insects and other invertebrates"
Who is online
Users browsing this forum: No registered users and 2 guests