Hi

One last request - PLEASE if anyone will be at Pafuri Picnic site over the next couple of months I would really appreciate any photo's of the memorial bench (details above).
Please would you be so kind as to PM them to me as this thread will be removed shortly.

Regards
Jen
Napi Tail - Feb 2015
---
Virtual Ranger

Posts: 800
Joined: Sun Oct 19, 2008 2:01 pm
Location: Unfortunately not in KNP so I had to settle with Jo'burg
Hi Jen
I went to Pafuri picnic site on the 28th and as promised went to have a look if I could find the bench...
I couldn't find it and asked Frank if he knew where I could find it.
He knew exactly what I was talking about and said they delivered the bench the previous week but didn't send the correct spanner with to assemble it (which would have been the next day)
He showed me on a hand drawn map where the bench was going to be set up and then took me to the spot...
Here are some pics taken from the spot the bench is standing now.
Frank with the map
The map... The bench is the star on the left of the the word river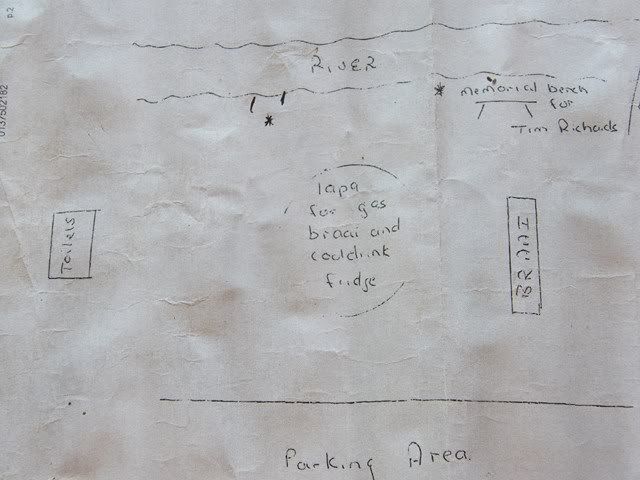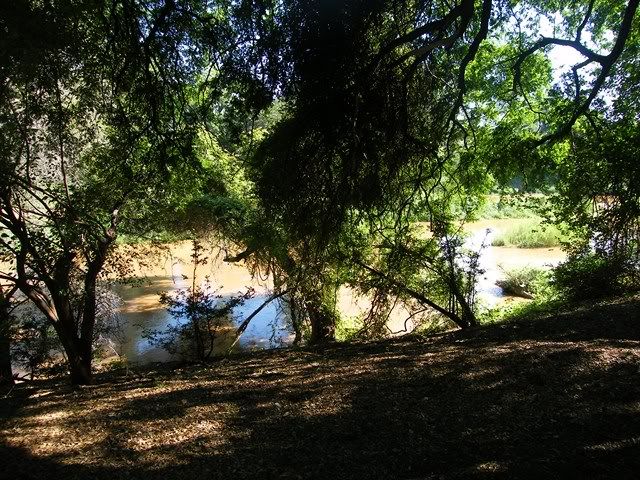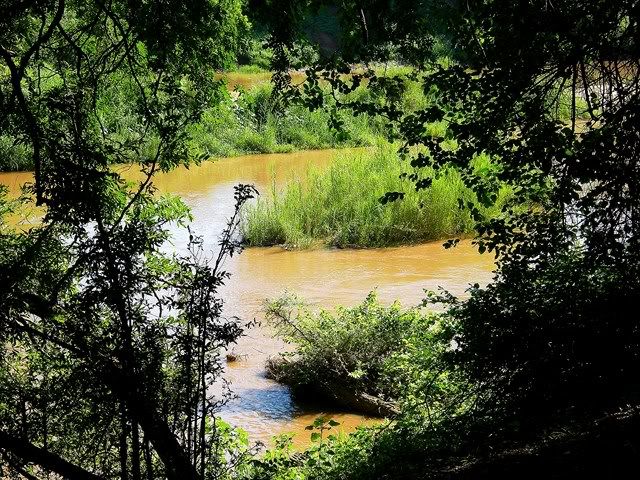 This Buffalo walked by while I was standing there
If you would like me to mail you the original photo's you can just pm me your email address.
Hope it helps! I must say they do have an awesome view...
Nature does not hurry yet everything is accomplished
- Lao Tzu
---
Distinguished Virtual Ranger

Posts: 10801
Joined: Sun Jan 28, 2007 12:34 pm
Location: Bloemfontein
Thanks for the photo's, Bushbaby30 !
---
Junior Virtual Ranger

Posts: 964
Joined: Wed Feb 25, 2009 5:23 pm
Location: All over the place!!
Bushbaby30 - Wonderful of you to take the pics and post them here.
Jen must be so happy!
What a special place to have a memorial bench erected -
If you want something you never had, do something you have never done.

No to Hotels in Kruger

Every time I get the news that another Rhino has died, a piece of me dies too - Edna the Brave
---
Dear BushBaby 30 -
Thank you so much for taking the time to find out the information, take the photographs & post them for me. I am crying as I type this!
Thank you sooooooooooooooo much it really means so much to see it - hopefully I will get to visit it myself in June.
Napi Tail - Feb 2015
---
Senior Virtual Ranger

Posts: 2480
Joined: Sun Feb 14, 2010 5:30 pm
Location: France for a while
At least thanks to you 'mites and the help of a very nice person Michelle
, I could finalize my project for my dear friend.
I will have a memory bench erected soon in the Pafuri picnic spot .
I was pleased to learn right now , it reopened (thanks Albert
)
I will go and see this bench at the end of july this year
You can imagine I'm longing for this moment and I'm please at the same time to contribute to this nicest picnic spot reconstruction.
Carpe diem

2015:
Namibia july 21th-22th,
Kgalagadi july 23th-August 3rd,
K.K july 23th-24th,
Urikaruus july 25th-26th,
Nossob july 27th- 28th
Grootkolk july 29th-30th -31st
Mata Mata august 1st - 2nd
Namibia august 3rd - 19th
---
Dear Forumites
The new contact person is
Nelisiwe Lukhele
and her contact details are 013 735 4104.
Her email address is nelly.lukhele@sanparks.org
Please allow us to apologise for the inconvenience that may have been caused in the delayed responses of emails.
Another alternative contact is Michelle van der Merwe (Regional Tourism Manager, Nxanatseni Region, Kruger National Park). Her email address is
michelle.vandermerwe@sanparks.org
.
Office No.: 013-7353510
Lesego Nko
Web forum and Online Stakeholder Relations
Lesego.nko@sanparks.org
Tel: (012) 426 5202
---
Moderator

Posts: 47941
Joined: Thu Dec 30, 2004 5:54 pm
Location: Where everything is on the correct side again!
---
---
Return to "Kruger National Park"
Who is online
Users browsing this forum: No registered users and 3 guests