Hi guys

Has anyone stayed at Talamati in the last month or so that could give me any advise about the camp, staying there next week and just wanting to find out if there is anything I should know before I go... I know the basics about not having a shop or petrol station etc but if there are any problems with the monkeys and baboons in the camp? Did you have a good stay there with great sightings?
Did you see anything interesting at the hide or the surrounding areas?

Your advise would be greatly appreciated.

Regards
Jenky
---
Junior Virtual Ranger

Posts: 208
Joined: Tue Oct 18, 2011 7:37 am
Location: Too far away from KNP,KTP or KNP
Hi there Jenky
It's a beautiful camp with great staff. The hide is very active in the morning with all sorts of animals coming down to drink, from impala to Sable and some of the bigger guys like Buffalos to Giraffes and all in between. We found the hide to be most active in the morning from when it starts getting warm until about noon.
We have visited Talamati 6 times over the last few years and in our experience have witnessed something very strange
We had baboon problems in the past, but not since 2010 however the vervet monkeys have taken over. They more aggressive than any other I have seen. Be careful of them.
Talamati is one of those areas that can go very quiet at times, however we have had our 2 best ever Lion sightings in this area, great Sable sightings, our first cheetah sighting, and awesome raptors and vultures as well as a fleeting glimpse of Wild Dog. It is also a camp that has been very successful for us on the sunset or late game drives.
September - Orpen, Talamati and Satara
---
Virtual Ranger

Posts: 2881
Joined: Mon Jul 04, 2011 1:34 pm
Location: Comberton near Cambridge UK ...2015 trip to SanParks completed
Talamati is a fantastic camp, with great staff and marvellous viewing from the hide. It's always the first camp we book and then arrange the rest of our trips around it.
You can sit for hours watching all sorts coming to drink, especially sable. We have been entertained by several families of ellies.
Sunset drives have been very productive.
Yes, monkeys are a problem. Don't leave anything lying around and follow staff advice. We placed plastic snakes around our chalet
They did seem to work
Hope you enjoy it.
---
Posts: 130
Joined: Mon Mar 17, 2008 6:56 am
Location: Kleinmond
Help please
can anyone tell me what is the difference between GC6 and GC6E? I cannot find GC6E on the map and I see it is R115 more than the GC6 but in the accommodation description it only has one WC and bath. I have booked four nights at Talamati and have been allocated GC6E and don't want to be sharing a bathroom with our friends. Any help will be most appreciated
---
---
Posts: 130
Joined: Mon Mar 17, 2008 6:56 am
Location: Kleinmond
Thanks Elsa -I gave Talamati a call and they confirmed that GC6E is no 10 and it has two bedrooms and two bathrooms. I seem to remember one of the cottages burning down at Talamati so perhaps that is why it was renovated and is now a two bedroomed cottage and hence the stoep being a bit smaller than usual. We are only going in September but I will post photos on the accommodation thread on our return.
---
judithlorraine123 wrote:have read that vervets can be a pest here...one forumite mentions using a plastic snake as deterrent...am intrigued...any particular Kind? must it be certain colour, length, girth? or maybe a water pistol????
actually a water pistol sounds great but you have to be there and awake, likewise with a catapult.
the secrets are:-
*
No
fruit or food in sight at all
* Keep the windows and doors closed and locked using the mechanisms provided. when in doubt add a broom to hold the patio door closed
or use the plastic snake(s) on the floor by the door and on the kitchen window ledge. Please let your chalet attendant know in advance though !!!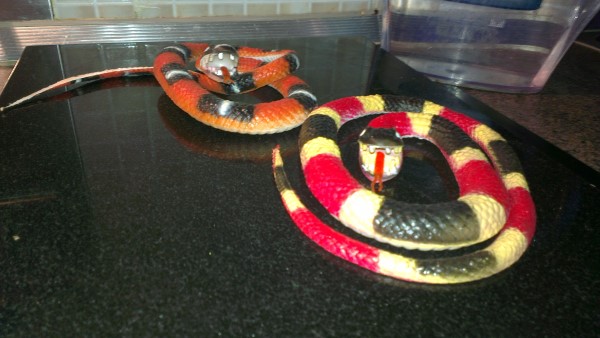 TALAMATI is one of the best KNP camps for a short visit with atmosphere, stay in camp, late night/early morning hide viewing and evening drives.....
It was no. 1 camp for a KNP visitor newbie who wasn't, until then, into game/birds etc.. Now he can't wait to return...
r.
---
Moderator

Posts: 46512
Joined: Thu Dec 30, 2004 5:54 pm
Location: Across the Equator, otherside the Atlantic
We saw the vervets hanging around there on our visit a couple of weeks ago - but had no issues. It is easy to lock the cottage up, so just keep windows etc closed when not around, as it seems from the notices that baboons are also a problem. Advise given above is good
Sawubona
Dalene
---
Posts: 19
Joined: Tue Jan 20, 2015 7:13 pm
thx gang...good to hear that a simple trick helps the situation. will get myself a couple of bright and silly snakes. seen just the thing on ebay. will also pack a water pistol and remember to warn staff that I m strategically placing my deterrents.
as to catapults, am sure no one is suggesting I injure the little devils.... but just to remind everyone..
Catapults and pellet guns are a scourge. Vervet monkeys are protected in terms of both national and provincial conservation legislation and also in terms of national animal protection legislation, and injuring or killing them is an offence!
Much more on this under...
https://www.monkeyhelpline.co.za/about- ... d-to-know/
thx again.
---
The catapults or ketties are used as a deterrent only by SANParks staff, you'll see it at picnic spots like Tshokwane and Pafuri. Monkeys especially just get a look at one and run.

The monkeys are never targeted directly, just the ground in front of them or the side. It makes a loud noise and creates some disturbance that they don't like. Just having one sat at you table is a deterrent.

The staff at Talamati know all about the problems with the baboons and monkeys and have come up with some simple plans to combat them. While we were there a few years ago the baboons had learnt how to open the patio doors if not locked. So the staff had cut broom handles to size to place along the floor of the slider, you just had to move the broom handle to slide the door. They had learnt by watching - clever little blighters.
Want to say
Thank You
or
Well Done
to a fellow 'mite? Why not nominate them for a
Kudu
?
---
Posts: 19
Joined: Tue Jan 20, 2015 7:13 pm
thx everybody...have purchased my rubber snakes and water pistol (my baggage will be strange) and will borrow a catapult as a last resort...will do as advised. don't worry wont attack the little chaps.
---
---