Moderator: hilda
African Purple Swamphen (Purple Gallinule) Porphyrio madagascariensis
Look deep into nature, and then you will understand everything better.
Albert Einstein

Latest lifers from Kruger NP:
Black Coucal Centropus grillii Swartvleiloerie
Flappet Lark Mirafra rufocinnamomea Laeveldklappertjie
---
Legendary Virtual Ranger

Posts: 9918
Joined: Wed Mar 16, 2005 12:38 pm
Location: In the shadow of Table Mountain
Saw two at Lake Panic hide on Wednesday.
Whatever (according to BB): "You are correct but I don't want to admit it".
---
I've seen Allan's Gallinule in the Park but FAR from Lake Panic!
Saw 2 Gallinules and 4 Lesser Moorhens at Middlevlei between Letaba and Mopani. The Gallinules disappeared into the reeds soon after we stopped but the Moorhens were happy to swim around in the open.
Two lifers in one vlei!
March 2008 - Biyamiti, Satara, Shimuwini...awesome!
---
First time to see one in the open - Marievale, 31 July 2010
Jackie

Croc Bridge - 6 April 2012
Berg en Dal - 7&8 April 2012
---
Virtual Ranger

Posts: 821
Joined: Mon May 19, 2008 11:17 pm
Location: Noordheuwel, Krugersdorp.SA
Nice photo Cherries
www.whereeaglesrest.co.za
STIFFNECK
"I'll rise up like the Eagle & I will soar with You because Your Spirit leads me on ~ by the Power of Your Love"
---
Senior Virtual Ranger

Posts: 4105
Joined: Sun Mar 20, 2005 5:53 pm
Location: Cambridge, MA (and home from home in Darling, WC)
I couldn't find a topic for this bird, so here's one I watched foraging in September — hard to get a clear view thru the reeds it prefers!
RSA 2014
20-16 Oct Joburg
27-30 Oct Mapungubwe: Limpopo forest tented camp, Leokwe camp
31 Oct-1 Nov Pafuri River Camp
2-15 Nov KNP: Punda Maria, Sirheni, Olifants, Tamboti, Skukuza
16-22 Nov Cape Town
23 Nov-20 Jan Darling
---
Posts: 154
Joined: Fri May 16, 2008 5:48 pm
Location: Sommernethi
If this Gallinule is present in our Parks and it was sighted there, then I assume that one of the MODS must add it to the BIRD INDEX for the sake of completeness. That goes for all sightings that do not appear in the Bird Index. Unfortunately not all Mites are aware of this handy tool - the Bird Index!
By the way, great sighting and nice photos.
KNP my HOMELAND 4 eva - never left it!
...."rush of the city" damaging my soul!
---
---
Virtual Ranger

Posts: 1076
Joined: Thu Jun 19, 2008 12:53 pm
Location: Port Elizabeth
Finally got to see this handsome bird.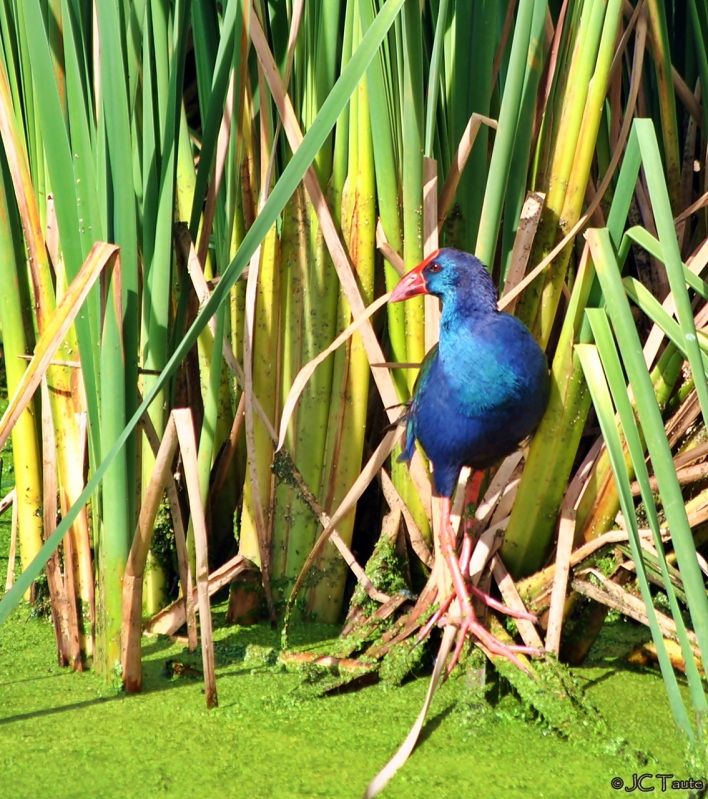 ---
---
Return to "Birding in Southern Africa"