Junior Virtual Ranger

Posts: 2626
Joined: Tue Sep 16, 2008 11:11 pm
Location: Sunninghill(JHB), Vaalwater & Beauty(Waterberg), Grahamstown(E.C)
The large red breast makes is GDCS, common in Addo
STIFFNECKS MEMBER
FGASA LEVEL 1
---
RJ - Thanks mate, appreciate it. You've also motivated me into buying Robertson's birds book...! I really must start educating myself
If you think I am stupid....you should see who hired me......
---
Junior Virtual Ranger

Posts: 2626
Joined: Tue Sep 16, 2008 11:11 pm
Location: Sunninghill(JHB), Vaalwater & Beauty(Waterberg), Grahamstown(E.C)
Its a pleasure
Im glad, you cant go wrong with a field guide, you'll start to get the hang of these birds much easier!
STIFFNECKS MEMBER
FGASA LEVEL 1
---
Virtual Ranger

Posts: 821
Joined: Mon May 19, 2008 11:17 pm
Location: Noordheuwel, Krugersdorp.SA
Walter Sisulu Botanical Gardens. August 2010
www.whereeaglesrest.co.za
STIFFNECK
"I'll rise up like the Eagle & I will soar with You because Your Spirit leads me on ~ by the Power of Your Love"
---
Posts: 1
Joined: Thu Mar 03, 2011 11:58 pm
NickyG wrote:

Is this a greater, or lesser ? I just know its a sunbird. Saw it in Addo.
Beautiful bird NickyG! I love the vegetation in the Addo Elephant park. The tree in that shot looks like a
Schotia
, I know
S
.
afra
abounds in the park so that is probably what it is. It's the plant next to it that I'm especially intrigued by, is it an alien
Ceropegia
, looks a lot like
C. dichotoma
to me. If it is then it is native to the Canary Islands.
---
Junior Virtual Ranger

Posts: 96
Joined: Sun May 29, 2005 11:45 pm
Location: Pretoria, for now
I love winter in the lowveld, when all the aloes flower! I have found that Skukuza and Letaba are great spots to sit and wait for sunbirds. Patience is the key
Greater Double-collared sunbird
There's never a reason to shout at someone unless they are in imminent danger!
---
I like
Look deep into nature, and then you will understand everything better.
Albert Einstein

Latest lifers from Kruger NP:
Black Coucal Centropus grillii Swartvleiloerie
Flappet Lark Mirafra rufocinnamomea Laeveldklappertjie
---
I saw this DCSB recently in the Ebb and Flow area in the Wilderness.
The yellow colouring I presume is part of its breeding plumage.
Not the best photo, but lighting in the evening was not great.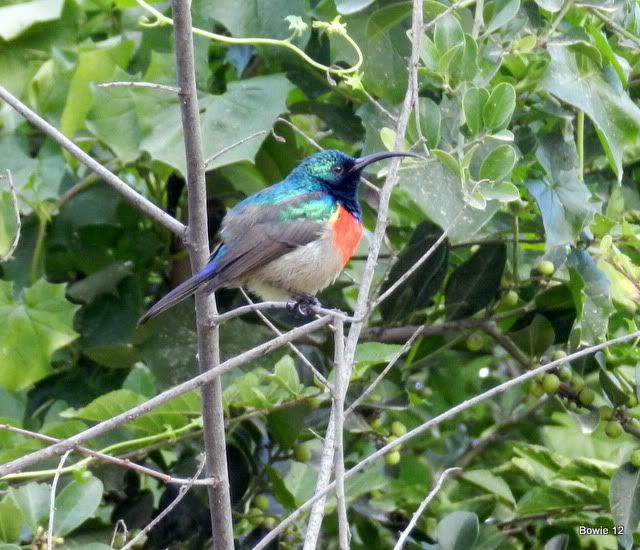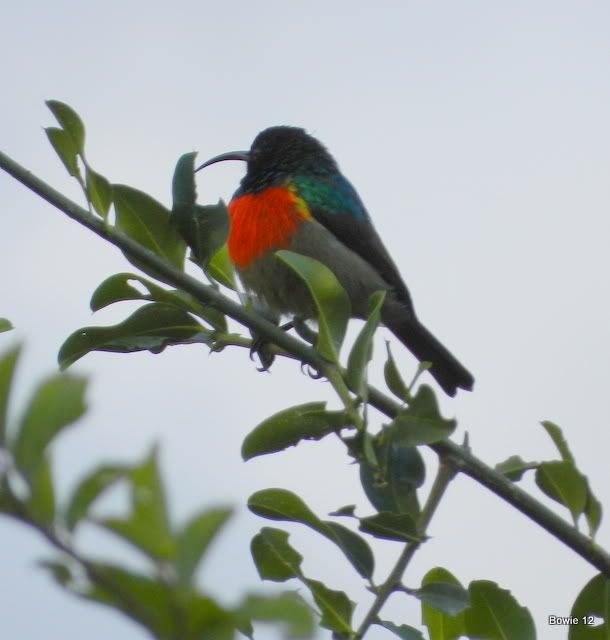 ---
Distinguished Virtual Ranger

Posts: 1923
Joined: Sat Jan 29, 2005 12:52 pm
Location: My business...
Oribi Gorge KZN
On a quest to visit 9 new National Parks in October.
---
---
Return to "Birding in Southern Africa"
Who is online
Users browsing this forum: No registered users and 1 guest