Moderator: lion queen
Posts: 105
Joined: Wed Jan 28, 2009 1:15 pm
Location: Cape Town
On a recent trip to the Karoo Nat. Park we saw 7 diffrent lions in the Park.
1 male alone,
2 males together
2 females and 2 young lions with the 2 females.
Photo taken by Bridgena Barnard
The 2 males on the Potjielekker road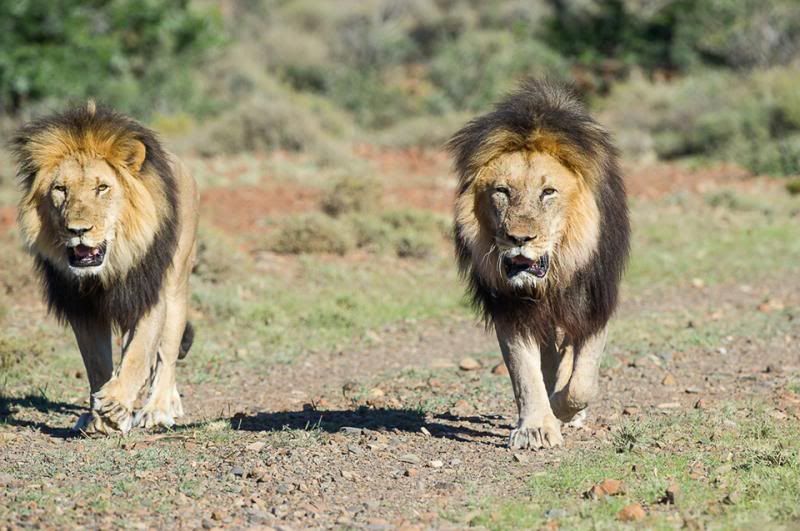 Last edited by
JohanBarnard
on Tue Jan 28, 2014 7:28 am, edited 1 time in total.
Our website : http://www.images-at-bridgena.com
Facebook: Bridgena-Johan Barnard
---
Junior Virtual Ranger

Posts: 208
Joined: Tue Oct 18, 2011 7:37 am
Location: Too far away from KNP,KTP or KNP
Wow! That is very lucky.

You said that you saw 1 male on his own and 2 females with 2 young lions. In what area did you see the 2 young males?

For anyone in the know, am I right in saying that Johan saw all but 3 animals? Should there not also be another male and 2 more females?
I recall a lion was killed by a puff adder some time back.

Thanks and great sightings Johan.
September - Orpen, Talamati and Satara
---
Posts: 105
Joined: Wed Jan 28, 2009 1:15 pm
Location: Cape Town
Hi
The group of 4 comprised of 2 adult females and 1 young male and 1 young female.
We saw them in the close to the "WZN 1" = Waterhole Zonder Naam 1
I still cannot understand why its such a big sin to name the waterholes, but let me not start.
Its in the area where the Afsaal cottage is, Hope this help.
The other adult male(picture) we also saw there.
The 2 other males on the big road towards another waterhole, wow this was a joke of a waterhole, , a dam and we could not see them drink at all, so tourist friendly
Will post pics later of the other lions we saw.
Johan
Our website : http://www.images-at-bridgena.com
Facebook: Bridgena-Johan Barnard
---
---