Moderator: hilda
Distinguished Virtual Ranger

FAC Member (2014)
Posts: 4284
Award: Small Parks Promoter of the Year & Sighting of the Year - Small Creatures and Insects (2013)
Joined: Tue Jan 26, 2010 7:02 pm
Location: Bellville, Cape Town
A wonderful new guide - one on the ADDO Elephant National Park has been published.
I managed to obtain a copy of this book from Peter Derichs stand at the Gretaway show this afternoon in Somerset West.
It forms part of the Peter's Guide collection and contains wonderful information about trees and shrubs, at certain key points helping one when visiting this gem of a park. It also contains interesting place name and historical information as well as GPS coordinates, photos and maps to assist with the location of these points and places of interest.
Having visited Addo Elephant NP a few times already, I am of the opinion that this book will definitely bring another side of the park to the fore, hence enriching my trip experience.
The book ref is ISBN 978-0-620-59612-1 and can be obtain from Peter Derichs directly via
pderichs@global.co.za
.
Here is a cover page and an example of one of the pages.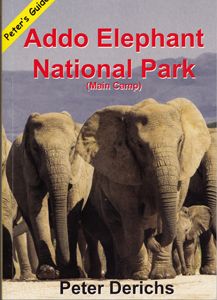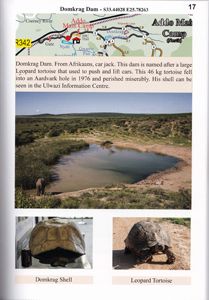 Now active - TMNP: Table Mountain's mood today
Now active - KRUGER Dec'14: 14 days appreciation of nature & wild company
Now active - Agulhas NP: 8-10 July 215
Future trip - Kruger: 10-25 Dec'15
---
Distinguished Virtual Ranger

FAC Member (2013)
Posts: 7658
Joined: Mon Nov 30, 2009 9:21 am
Location: SA
Thank you Kaapsedraai for the information. It sounds like a great book to have when visiting the Addo Elephant National Park.
"Whether it's the best of times or the worst of times, it's the only time we've got."
---
---