Moderator: hilda
Junior Virtual Ranger

Posts: 559
Joined: Sun Jan 20, 2013 8:26 am
Location: Perth Western Australia
Now that I've come to the end of my TR I'm painting pictures of some of the animals.
These 2 are quite large paintings - the painted (wild) dogs is about 55cm x 25 cm and the elephants about 50cm x 40 cm.
I'm not totally happy with either of them. As I'm going on a caravan trip for 8 weeks I'll spend most of my time (when I'm not birdwatching) painting.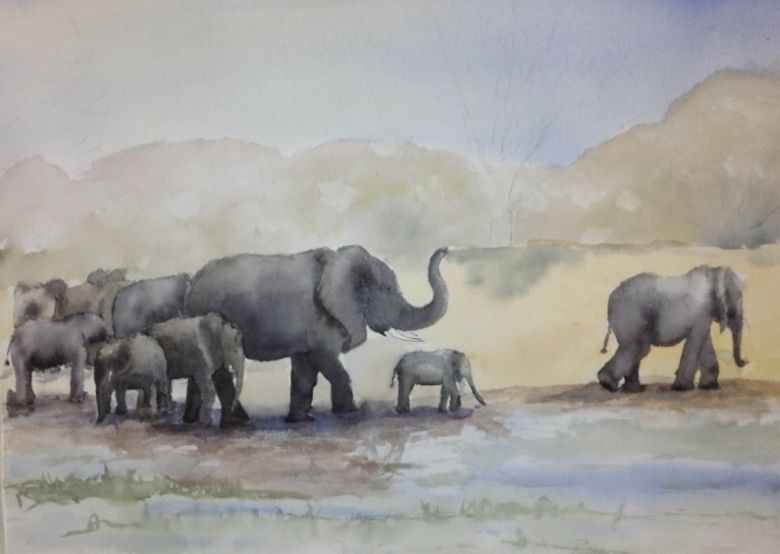 Kaapsaadrai (from this forum) has given me permission to use some of his photo's of giraffe, so I'll try my best to paint them and do Kaapsaadraii's photo's justice.
---
Junior Virtual Ranger

Posts: 559
Joined: Sun Jan 20, 2013 8:26 am
Location: Perth Western Australia
Gash Kite I didn't realize I had had so many hits. I'm always so happy to hear Forum members thoughts (esp. re. my paintings).
I'll attach the latest one I've done. Its the most challenging one I've done. I didn't realize painting cats (any kind) would be so difficult. I quite like the results. I would also like to acknowledge Kaapsadraai's input (a lot of my paintings are done using his wonderful photo's as reference).
---
---