Junior Virtual Ranger

Posts: 391
Joined: Tue Aug 06, 2013 6:29 am
Location: Benoni, East Rand
Or a possible story, whatever. I take pictures of this and that animal and so some are nice pictures and some not so grand but anyway, the kind of pictures that I look at over and over again are those that make me wonder what was going on and what had happened and what was about to happen.
So last week we were driving east along the S100 and looking for the animals that I've heard people say are so plentiful there. And we saw this and that and it wasnt too bad. But we hadnt seen any lions. Not too serious, that's not all the thing is about hey. And then I took one of these little loop-off turns and di the circle and as I came back up to the road: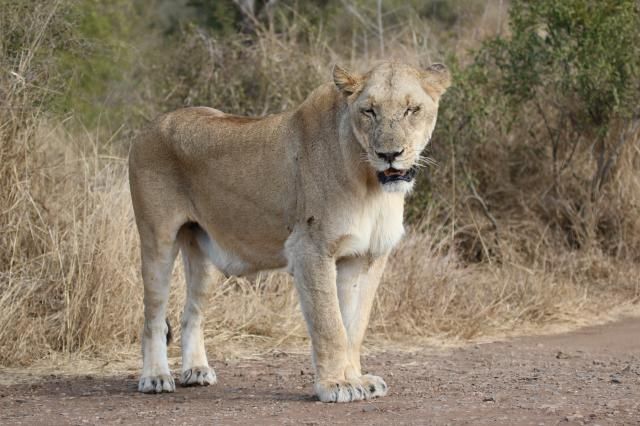 All alone and just standing there. And she looked back toward the north veld. And other side of the road was water. So we stopped and looked at her.
So it looked to me like this was a mother. And I started reckoning what the story was because she kept looking toward the water and then back over her shoulder at the veld on the north of the road.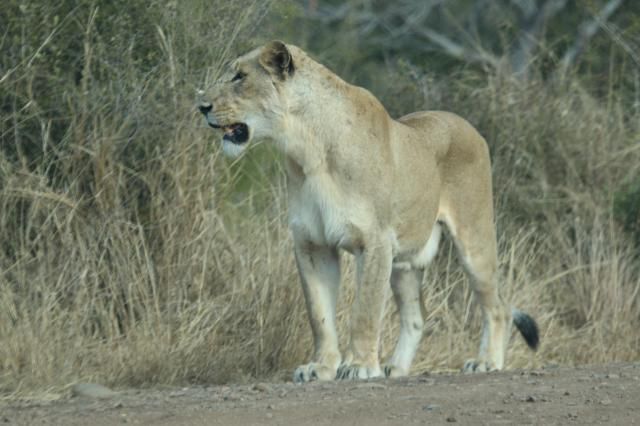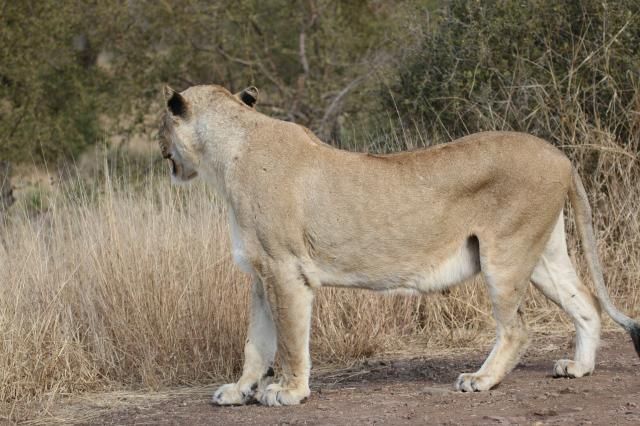 And she was padding around pretty much in the same spot looking back and forth and at us and a bit unsure, as was I. And then she headed toward the water side of the road.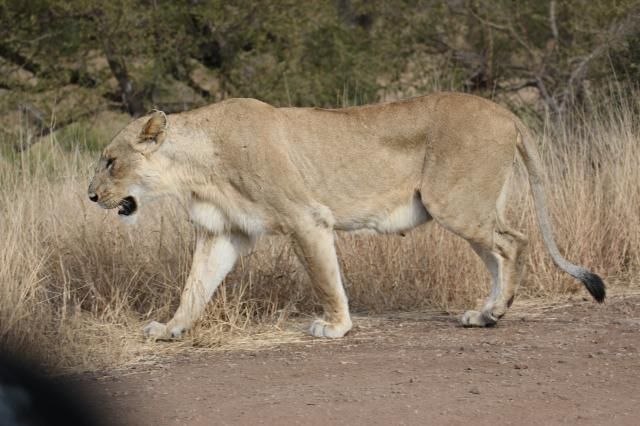 And it seems that maybe I disturbed something there. I was wondering if she was leading her cubs to water and did they follow shortly after? I dont know because as soon as she crossed I decided to get out of there so that things could maar carry on.
---
Moo box,what an interesting topic.
Everyone who has been to Africa a few times will have plenty of photos,but as you say,it is the photos that tell a story that are best.
My suggestion is that she is heading to her den/cubs and that she is checking that she hasn't been followed or watched.
I have seen lions do this before.(and other animals)
---
Legendary Virtual Ranger

FAC Member (2013)
Posts: 16175
Joined: Tue Jun 07, 2005 8:47 pm
Location: meandering between senility and menopause
Very interesting.
She certainly does seem to be seeing if she can get the ''all clear''.
The bird doesn't sing because it has answers, it sings because it has a song.
---
Forum Assistant

FAC Member (2014)
Posts: 15103
Joined: Fri Apr 06, 2007 6:39 am
Location: Pretoria SA
Great topic Moobox! More please!
---
Junior Virtual Ranger

Posts: 292
Joined: Sat Jun 09, 2012 2:03 am
Location: Pompano Beach, Florida
The story here is this very young bull with an attitude!
He was standing alone on the fringe of the road which seemed strange for such a young Elle, so we stopped to watch him. He immediately eye balled us and charged....mock of course to less than ten feet away. We laughed at his bravery as he left and he immediately turned around and mock charged again and then repeated it a third time. All the while his mother, well back in the bush, continued quietly feeding. One of our most enjoyable sightings.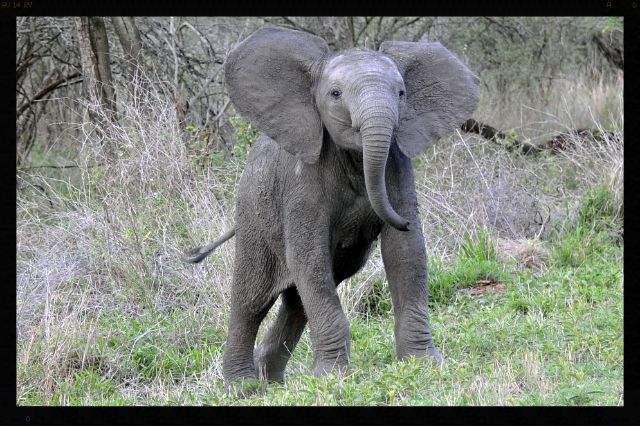 *****2015*****
Skukuza Oct 30,31 Nov 1,2
Orpen Nov 3
Letaba Nov 6,7,8
Oliphants Nov 9,10
Satara Nov 11,12,13,14,15,16,17,18,19,20,21,22,23,24,25,26,27
Lower Sabi Nov 27,28,29
Crocodile Bridge Nov 30 Dec 1
---
Distinguished Virtual Ranger

Award: Quiz Whiz of the Year (2014)
Posts: 6708
Joined: Thu Jan 20, 2011 8:58 am
Location: Far South in South Africa.
Hi you guys...WOW, just brilliant
"Lose yourself in Nature and find Peace!" (Ralph Waldo Emerson)
UNITE AGAINST POACHING...What we protect,
do not let poachers take it away!
Extinction is forever and survival is up to---every last one of us!
---
Junior Virtual Ranger

Posts: 391
Joined: Tue Aug 06, 2013 6:29 am
Location: Benoni, East Rand
So the little guy decides to take some responsibility and you laugh at him. How do you think that made him feel?

He even had the ears fanned out and all.
---
Forum Assistant

FAC Member (2014)
Posts: 15103
Joined: Fri Apr 06, 2007 6:39 am
Location: Pretoria SA
.... He already knows how to do it ekoppen!
---
This may be my favourite photo I have taken to date...
We were heading home nice and early last January after a 5 day Kruger trip. Our last night we stayed at Tambotie to ensure we can get home for a wedding. Luckily I decided to keep my camera at hand for the last few kms. When we reached the t-junction of H7 heading to Orpen we spotted this jackal. He was being chased by some wildebeest calves when he gave up his quest. He gave a slow trot away and froze, he broke into a slow stalk so I snapped a few photos, and before I knew it he was up in the air! Amazing. I couldn't make out what he had caught but he lay down and ate whatever it was.
A lovely farewell to another great trip!
Last edited by
davidhein
on Sun Mar 08, 2015 6:43 pm, edited 1 time in total.
---
Junior Virtual Ranger

Posts: 324
Joined: Mon Aug 05, 2013 4:54 pm
Location: Noordheuwel Krugersdorp
What a excellent photo, well done.
I love to think of nature as an unlimited broadcasting station, through which God speaks to us every hour, if we will only tune in. ~George Washington Carver
One day closer to my next visit
---
---
Return to "KNP Activities & Sightings"